The HSE currently has 18 major programmes currently underway which constitutes in the order of 200 sub-programmes / projects over 3-5 years
These projects and programmes are focused on delivering integrated, patient centred care with improved access, quality and safety.
The Programme for Health Service Improvement in Action - below are some of our key projects: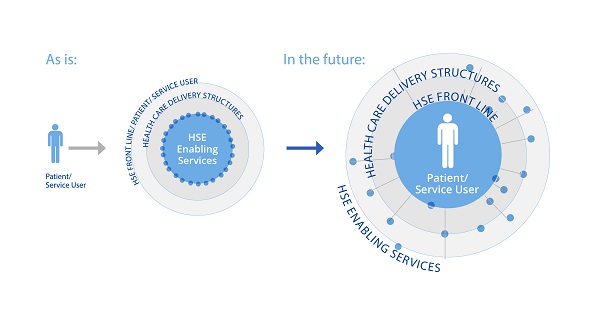 Launch of Medical Card Online Service 
In January 2018, the HSE launched its new National Medical Card Online service, www.medicalcard.ie. This service enables people for the first time to apply online for a Medical Card quickly and easily using our step by step guide. 
You can see a video here outlining how this work was supported by a project manager and by the PHSI.  
Almost 440,000 applications were received by the National Medical Card Unit in 2017, so this new, streamlined service is bringing great benefits for people in terms of turnaround times, convenience and security.
Users can find out if they are eligible for a Medical Card immediately, and if they are, their application will be processed in 15 working days. This online service conveniently allows applicants to scan and upload documents and other information, and no longer requires a visit to a GP to stamp paper forms.
High Tech drugs scheme  
The High Tech drugs scheme is administered by the HSE through the Primary Care Reimbursement Service (PCRS). This scheme aims to be a "one-stop-shop" for pharmacies for all high tech medicine orders. It is putting in place a new streamlined process for ordering high-tech drugs whereby patients can collect their treatments from their local pharmacy, rather than from hospitals. The High Tech drugs scheme has a number of benefits including helping to monitor patient data, tracking prescriptions and minimising  wastage and over-ordering. You can see a video here outlining how this work was supported by the project manager and by the Programme for Health Service Improvement.    
Negotiating the GP contract to enhance Primary Care Services:
The current GP Contract is being renegotiated to enhance Primary Care Services for the public, reflecting a focus on health prevention,health promotion, improved chronic disease management, and more. The Programme for Health Service Improvement has provided resources to progress the talks and overarching project management support. The work has included a significant public consultation survey, reflecting the desire for future contract discussions to be informed by contributions from the widest possible network, including members of the public and public representatives. Here's a video which highlights some of the work to date. 
Designing the future for Integrated Care for Older People:
The Integrated Care Programme for Older People and the National Clinical Programme for Older People are leading the development of primary and secondary care services for older people, in consultation with the public and key stakeholders. The Programme for Health Service Improvement is providing resources to help plan and deliver these programmes. The programmes are currently focusing on pioneer sites, working on exciting initiatives that put the older person at the centre of care and adopt a population health approach to plan for future needs at a local level. A 10 Step Integrated Care Programme Framework has been developed that sets out the desired way to integrate health and social care for older persons, including: establishing governance structures; population planning; mapping local care resources; planning services and care pathways, and much more.
Improving the patient experience of people with Hereditary Haemochromatosis, by defining best practice care and services:
The Programme for Health Service Improvement coordinated the development of two Models of Care: a Model of Care for Hereditary Haemochromatosis (HH) services that coordinates acute care, primary care and other HH services; and a Model of Care for the Delivery of Therapeutic Phlebotomy. The process involved significant consultation with patients, as well as other key stakeholders. As a result, the Models of Care set out a new, patient-centred way of providing care, one which gives equal access and allows patients to be treated by a GP in the community, instead of in a hospital. The Models of Care are now being delivered by the National Service Plan 2017.
Making it easier for patients to get antibiotics at home:
The Programme for Health Service Improvement supported the project to establish a new contract with a qualified Service Provider to manage patient referrals to the Community Intervention Teams (CIT) and Outpatient Parenteral Antimicrobial Therapy (OPAT). The CIT / OPAT services make it possible for suitable patients on intravenous (IV) antibiotics to be discharged early from hospital and treated in their home or community setting by a specialist nurse led team. The new interim system is already providing stronger reporting, and has started to allow the CIT / OPAT teams to develop predictive reports on the future needs for medical staff.