HSCP Deliver 2021-2026
HSCP Deliver 2021 - 2026 
A framework for achieving our collective potential
HSCP Deliver 2021 – 2026 is a strategic guidance framework which has been designed for action to enable HSCP, managers, leaders and policy makers to apply it in their own context, implementing in a way that supports local action on local priorities.
Co-creation Process
Key elements of the process used include:
A co-created approach, including service users, HSCP and wider stakeholders from the outset
An extensive engagement and insight generation process involving both face-to-face workshops and a 24/7 online platform accessible from any location or device, representing the first such co-created online engagement workshop implemented in the HSE
More than 16,300 contributions, triangulated with national policy and publications as well as senior leadership engagement and involvement to inform the framework
Distillation of the 16,300 contributions to reflect the collective wisdom of stakeholders and represent the collective voice
About the Framework
HSCP Deliver sets out the full collective potential of the family of 26 Health and Social Care Professions and offers:
A clear view on the impact on our health services and most importantly, the population  served when HSCP work to their collective potential
A description of the commitments that HSCP collectively make to delivering on that potential
Details of the supports and actions required from colleagues and other specific relevant stakeholders to realise this potential
With 39 examples of HSCP innovative/best practice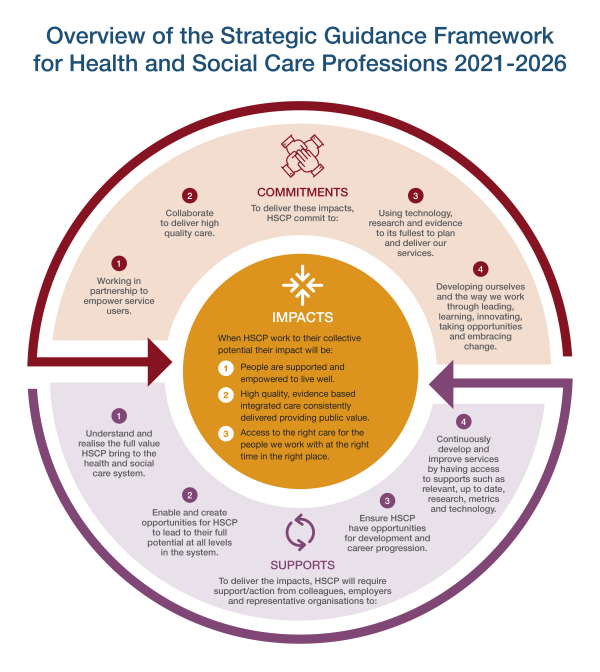 Implementing the Framework
HSCP Deliver will be implemented over a five-year period – 2021 to 2026.  Implementation will take place at multiple levels with actions identified for the National HSCP Office, national and organisation level leadership and HSCP.
The strategic guidance framework can be accessed in full here:
HSCP Deliver a Strategic Guidance Framework for HSCP 2021-2026 (PDF, 2.13 MB, 128 pages)