Programme Achievements: ICP for Older Persons
10-Step Framework
Step 1 :- Governance
A National Governance Structure has been established with quarterly Steering Group meetings (chaired by Michael Fitzgerald, Head of Operations & Service Improvement for Older People) and Dr. Siobhan Kennelly (National Clinical Lead, Social Care and Integrated Care for Older Persons). Monthly Working Group meetings also take place(chaired by Dr. Diarmuid O'Shea, National Clinical Lead for Older Persons Programme and Dr. Siobhan Kennelly.
Local Governance Steering groups and Implementation Teams have been established at the 6 pioneer sites (2016).
Step 2 :- Population Planning
Population health planning describes the demographic and social characteristics of the population to be served and is the first component in planning, developing and implementing the Integrated Care Programme for Older People. Population Health planning for older people starts with the geographic area and stratification of the population within this area.  Older people with high complex needs and frailty are identified to enable planning of services and resource requirements around these needs.
The use of Health Atlas as a tool for population planning was presented and discussed with sites a Networking Forum for all sites in December, 2016.  Follow-up workshops for individual sites are planned for early 2017 to focus on local population planning to describe the current and projected number and location of the population in the defined geographic area within the pioneer site.
Step 3 :- Resource Mapping
Mapping of local resources was carried out in 2016 to identify Clinical healthcare services, statutory and voluntary healthcare resources agencies and groups with the intention of producing a local service directory for Older Persons services in each pioneer area. Progress (2016) was as follows :-
P  CHO 1 – Mapping exercise complete across Acute and CHO
P  CHO 4 – Mapping exercise commenced
P  CHO 7 – Mapping exercise commenced
P  CHO 8 – Proposal for detailed mapping exercise drafted
Step 4 :- Develop Services and Care Pathways
The ICPOP aim is for pioneer sites to develop bespoke care pathways in line with the NCPOP Model of Care, for the specific needs of older people, particularly those who are frail or at risk of frailty.  Care Pathway mapping and implementation of Clinical pathways had commenced in some sites in advance of the ICPOP. Progress in Pioneer Sites(2016) was as follows:-
P  CHO 1:- Sligo University Hospital introduced a Specialist Geriatric Ward with a specialist 'on-take' older persons care pathway in May 2016 using a frailty pathway within the acute hospital. Indications are that changes in practice are increasing discharge rate, thus creating capacity when required.
P  CHO 4 :- Cork University implemented an integrated falls and fracture prevention pathway for a 100,000 population in Cork City and environs
P  CHO 7 : -Pathway mapping commenced
Step 5 :- Develop New ways of Working
In 2016, 35 WTE posts were funded in 6 teams within 6 CHOs.  By year end, 21 posts had been recruited, with the remainder of posts scheduled to be in place by March 2017.
The aim is to develop new roles that will interact with existing hospital and community based multidisciplinary teams, adopting a case management approach for a targeted population of frail older people. The proposed solution involves incrementally building integrated care teams that will provide the catalyst for local integration.
A Guidance Document outlining the essential elements of Case Management for Older People with Complex Needs was prepared by ICPOP in July 2016 and issued to pioneer sites. 
Step 6 :- Develop MDT & create Clinical Network Hub
The setting up of Clinical Network Hubs has commenced in CHO 6, CHO 7 and CHO 8 to date.  The purpose of the clinical network hubs is to have a centralised location and process for Multi-disciplinary teams to discuss the needs of older people with frailty and complex care needs ensuring daily liaison between teams.
Step 7 :- Person Centred Care Planning and Service Delivery
Develop an approach to care planning that is person centred, longer term and coordinated and includes user and carer input.  Introduce ways of thinking and doing things that sees older people using our services as equal partners in planning, developing and monitoring care to make sure it meets their needs.
Step 8 :- Supports to Live Well
The Integrated Care programme for older people is currently encouraging pioneer sites to have patient and carer representatives at the core of integration locally with key older people or their advocates on the steering group for each pilot project.  The plan is for local service leaders to work with voluntary agencies in developing a range of community supports that enable older persons to live well in their communities. This plan will be developed further in 2017.
Step 9 :- Enablers – Develop ICT
Throughout 2016, the ICPOP engaged with the Office of the Chief Information Officer (OCIO) in the HSE to scope out how information communication technology (ICT) can be used to enable information sharing between MDTs in primary and secondary care services. A timeline of engagements and activities that took place in 2016 is given in the table below.
Two ICT Scoping workshops took place in Tallaght and Cork in May/June 2016 to identify ICT  priorities at sites.  Priorities were identified as :-
Hardware Equipping for Pioneer Sites
Use of SAT as platform for Care Coordination/Care Planning
Information Sharing for MDTs across care settings (cloud based)
Secure email
MDT Hub ICT Equipping (inclwifi)
Community Access to Healthlink
Community Access to iPims – iPimsalerts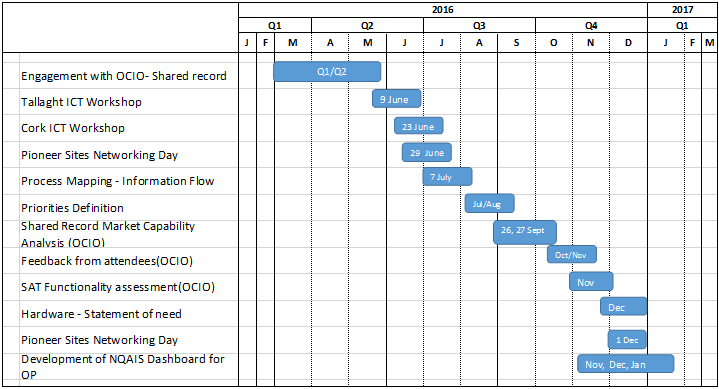 Step 9 :- Enablers – Develop Workforce
The ICPOP documented their approach to Workforce planning in September 2016 in a paper (click here to access) outlining the key requirements for workforce development as Ireland's population ages. The requirement is to ensure an adequately staffed age-attuned workforce, integrated across GP, Community and Acute hospital services.   The paper outlines new ways of working across the continuum of care supporting the integration framework for older people, new roles across care settings, the need for a competency framework, education and specialist training programmes where working with older persons is a core part of education. 
Step 10:- Monitor and Evaluate
In 2016, the National Working group for Older People defined the approach to measurement and evaluation in terms of three sets of metrics;
Structural Metrics, Process Metrics and Outcome Metrics.
Structural Metrics -Track the development of services
Using HIQA themes and standards for this type of service, priority standards and measures have been identified for each of the National framework 10 Steps, along with the associated structural or systems indicator.
Process Metrics - Measure activity and outcomes
Process Indicators based on the tracking of activity levels to identify how the service is functioning, are currently being finalised and broadly encompass; referrals, caseload, discharges, liaison and onward referrals.  These monthly measures have been co-produced with existing pioneer site team members in particular the case managers
Outcome Metrics - Measure Care Outcomes, PROMs, Staff and Service User experience
The National Working Group for Older People is currently developing dashboards and IT solutions that will demonstrate data trends and hospital utilisation for those patients aged 75 and over which can be compared to pioneer and non-pioneer sites and at a national level. Patient-reported outcomes measures (PROMs) attempt to capture whether the services provided improved patients' health and sense of well-being and are a critical component of assessing whether clinicians are improving the health of patients.  These metrics will be developed further in 2017.