Conference 2015
'Transforming Care of Older People in Ireland' Conference 2015
The National Clinical Programme for Older People held its first conference 'Transforming Care of Older People in Ireland' on 26thMay 2015 in the Royal College of Physician of Ireland, No 6 Kildare Street with an audience of over 200 delegates.
Minister Kathleen Lynch opened the conference and praised the work of the programme. Her overriding message to those working with older people was to listen to them and to be mindful of their vulnerability, especially as hospitals can be intimidating places. "Despite the time constraints and pressures on our hospital doctors now, it is very important to take the time to explain what is happening, what the process is and why they (the patients) are there."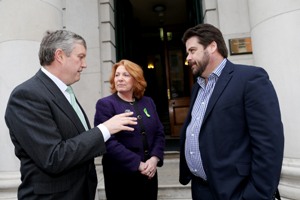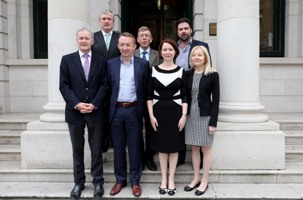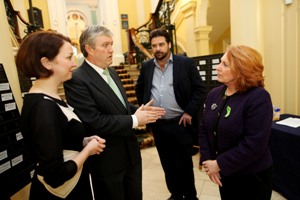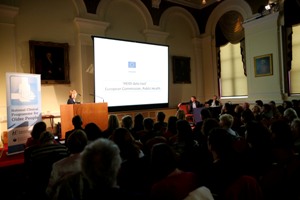 The aim of the conference was to bring together all those involved with the National Clinical Programme for Older People and those involved in frontline care of our older population. A comprehensive update was provided by the Clinical Lead of the NCPOP, Dr Diarmuid O'Shea, including achievements of the programme to date and also the ongoing need for change and commitment to further progress.
Dr O'Shea talked about the benefits of focusing on the individual and on the provision of specialist-lead teams to diagnose and decide on timely treatment and appropriate care packages. Such a specialist geriatric model of care (one of the key achievements of the programme to date) can reduce hospital stays and increase the likelihood of the patient being able to return to their own home once they are ready to be discharged.
"Early integration with the National Clinical Care Programme for Acute Medicine helped to highlight the importance of having doctors with a specialist interest in geriatric medicine involved early in the course of an older persons admission to hospital. This helped patients to have timely assessments with senior decision-makers, thus making their pathway through hospital more efficient and hopefully, they will get home and back into their community more quickly."
Other topics on the agenda highlighted the key areas that need to be addressed in order to reach the goal of a 'right care, first time' approach to care of Older People.
Prof David Oliver, Consultant Geriatrician and President, British Geriatrics Society provided the keynote address. His talk 'Making health and care services fit for an aging population-how we need to change,' focused on person-centred care and also the importance of community services and homecare supports so that older people can make the transition from hospital back into their community and maintain good health for as long as possible. He said 'Older People are us', therefore investing in improved care services for older people now is investing in our own and future generations.
Prof Oliver also spoke of the evidence-based benefits of a specialist approach stating that those who are assessed and treated in a specialist unit by a specialist-lead team are more likely to be able to return home and maintain good health.
Dr Emer Shelley spoke to the conference about the rapidly aging demographic in Ireland. Between 2006 and 2011, those in the 65-69 age bracket rose by 21% and those in the 75-79 age group rose by 10% and this growth is ongoing.
One third of the population aged 50-64 are taking 1-2 medications, a statistic which Dr Shelley said is 'unexpected' in a relatively young age group and emphasized the need for people to lead more active lives, healthier lifestyles to help fight against chronic diseases such as obesity and heart disease. On a positive note, 75% of those over 50 report excellent/very good/good physical health, according to the TILDA Study. However, the level of chronic disease
Dr Shaun O'Keeffe discussed the importance of identifying frailty in the older person. Frailty is often difficult to identify and can also mask other underlying, more serious conditions. Some of the conditions which are usually present are weakness, slow walking or movement and exhaustion. Conditions such as delirium, immobility and/or dementia may also exist. It's identification and understanding can predict poor outcomes and help to decide on the right care for the patient.
Dr Áine Carroll, National Director for Clinical Strategy and Programmes, HSE closed the conference, paying tribute to those pioneering for changes that the programme has brought so far and urging people to continue the good work as there is still a way to go to get where we need to be in terms of caring for our older people.