News
Cultivating patient leadership - CSPD October 2017
workshop on Cultivating Patient Leadership amongst our older citizens, organised by the HSE's Integrated Care Programme for Older Persons (ICPOP) and the Age Friendly Cities and Counties Programme, took place today (Thursday 26th October 2017) in the Aisling Hotel in Dublin.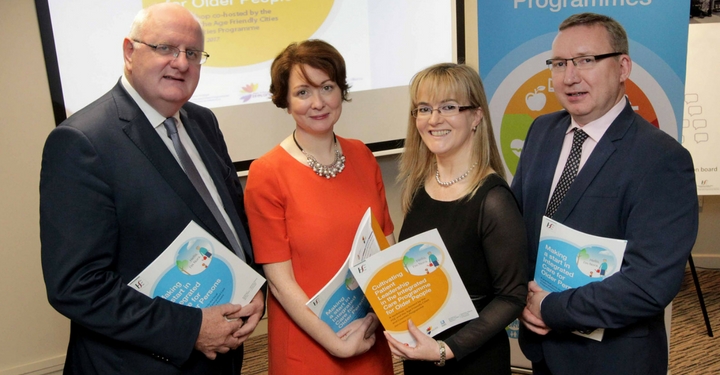 Pictured are Pat Healy, National Director Social Care, Dr Siobhan Kennelly, Clinical Lead Integrated Care Programme for Older Persons, Dr Aine Carroll, National Director Clinical Strategy and Programme Division and PJ Harnett, Programme Manager Integrated Care Programme for Older Persons.
The aim of the integrated Care Programme for Older Persons is to develop and implement integrated services and pathways for older people with complex health and social care needs, shifting the delivery of care away from acute hospitals towards community based, planned and coordinated care.
The objective of the programme is to improve the quality of life for older people by providing access to integrated care and support that is planned around their needs and choices, supporting them to live well in their own homes and communities.
Dr Áine Carroll, a Consultant in Rehabilitation Medicine and HSE National Director of Clinical Strategy and Programmes, welcomed delegates and emphasised the importance of co-production in improving our health services, doing with our citizens as opposed to doing for.
The event was attended by 120 delegates representing Older Persons' Councils, Local Authorities, HSE staff, and the voluntary sector.  Speakers on the day included David Gilbert, co-founder of the Centre for Patient Leadership in the UK, spoke of the UK experience in driving change in the NHS and the need to see patients as partners, not just in their own care, but also as equal partners in shaping the services that are delivered to them.
Dr Mitch Besser also addressed the event on an organisation called AgeWell Global which he initially founded in South Africa, and which now has a pilot project in Limerick.  AgeWell trains able bodied older people to provide peer support to older people in their communities who are at high risk, such as people living alone, people recently discharged from hospital, and people living with chronic disease.
Dr Siobhan Kennelly, HSE Clinical Lead ICPOP, spoke of the central role that feedback on patient experience plays in driving service improvement. 'I am heartened to see so many of our older citizens in attendance today', she said. 'You are demonstrating the energy and willingness that exists in our communities to play a substantial role as partners in our shared journey towards a better health service for all.'
Pat Healy, HSE National Director, Social Care, welcomed delegates and re-emphasised the importance of putting people at the centre of service planning and provision. He reinforced the message that learning from integrated care internationally means ensuring services are co-ordinated around citizens and deliver outcomes that are important to the end user.
Catherine McGuigan, National Age Friendly Programme Manager, Meath County Council said, 'Age Friendly Ireland are delighted to be working collaboratively with the National Integrated Care Programme for Older People. Including the voice of older people in a partnership approach enables us to identify challenges and co design solutions that are responsive to the needs of all older people. Older people participating at consultation, strategy development and implementation level is at the heart of our programme and has led to significant positive outcomes for older people across Ireland.'
See HSE's Integrated Care Programme for Older Persons (ICPOP) at hse.ie for more information and follow on Twitter @CSPD_HSE  #personcentredcare  #integratedcare