News
National Acute Medicine Programme Conference
The Annual Conference hosted by the National Acute Medicine Programme (NAMP) on October 24th 2017 at the Royal College of Physicians Ireland (RCPI) was a resounding success. The conference was themed Transforming the Delivery of Acute Medicine, and was held in the RCPI. Throughout the day there was an array of presentations on varied topics from the strategic developments in Acute Medicine such as the Acute Floor Model and the Geriatric EMergency Services (GEMS).
This event also captured the roll out of registered Advanced Nurse Practitioners in Acute Medicine to provide evidence-based clinical care initiatives such as the ambulatory care pathways, chest pain assessment strategies, national deteriorating patient recognition and response programme that are ongoing across Acute Medical services nationally.
The illuminating key note speech was delivered by Ms Allison Williams who spoke about the transformation of healthcare services that she oversaw in her role as Chief Executive Officer of Cwm Taf University Health Board in Wales. Ms Williams shared the key lessons learned from implementing such a major process and the behavioural change which led to phenomenal impact and improvements across all services within her healthcare region.
The Minister for Health Simon Harris TD joined the NAMP team on the day to speak about the important initiatives in Acute Medicine and their alignment to priorities of the Department of Health for the evolving health service stating the programme contributes to the "aim to ensure that we use the immense skill and capacity within our public health system, to achieve the best outcomes for patients".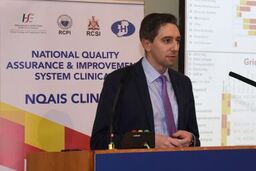 Minister Harris was also delighted to launch National Quality Assurance and Improvement System (NQAIS) Clinical which he described as "an important lever for change and quality improvement in the care delivered to patients in our hospitals." Minister Harris continued to say the "importance of this initiative should not be under-estimated... providing information and feedback directly to clinical teams involved can improve and enhance clinical performance".
The Minister concluded his speech congratulating the work of Acute Medicine Programme, HSE Health Intelligence and the work of all National Clinical Programme and HSE Directorates contributing to the roll out of NQAIS Clinical. For further information on the National Clinical Programme for Acute Medicine please follow the link: http://www.hse.ie/eng/about/Who/cspd/ncps/acute-medicine/