Progress and Achievements
Phase 1
A set of regional workshops were organised around the country to, for the first time in Ireland deliver the patient/service user perspective on what should be expected from person-centred coordinated care in the Irish Health Service.
IPPOSI through the their Patient Narrative Steering Group (IPPOSI Members) led an evidence-based, narrative enquiry methodology to hear and collate experiences of service users and patients in Ireland who need care over time from multiple services, as well as their carers and families relating to their experiences. Dr Amanda Phelan, UCD School of Nursing, Midwifery & Health Systems, and her research team facilitated three focus groups at each regional workshop. The research was funded by the HSE.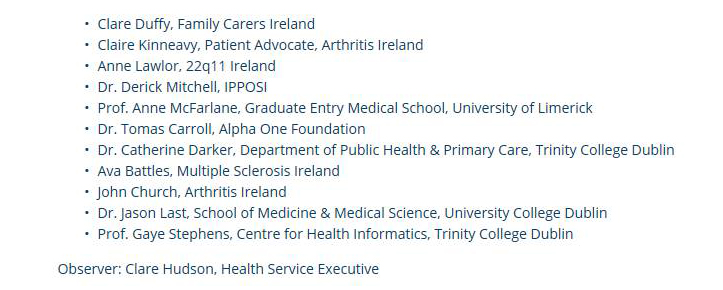 To complement the work of the focus groups an online survey was set up to gain the views and experiences of the wider IPPOSI patient membership.
The experiences from both the focus groups and the online survey will be translated into descriptors and a definition of person-centred co-ordinated care that will be written not just for the experts, but for patients, people, families and carers.
The goal is that the descriptors and definition of what good integrated care and support looks and feels like for people will be adopted nationally. They will be used to guide policy, strategy and design, and as a guide to what teams at local levels should be aiming to achieve practically, in their efforts to integrate services around patient, family and carer needs.
The descriptors and definition will be launched in May 2017.  A report giving information about how the descriptors were developed and information of interest will also be available in May 2017.
CSPD would like to take this opportunity to thank all patients/service users, carers, family members and patient organisations who participated in the focus groups. In addition we thank IPPOSI for their work in leading the process and to all HSE staff who supported the process in the localities of the workshops.
Phase 2
Phase two of the project will use the descriptors of person-centred coordinated care developed by service users/patients carers and patient organisations in phase one to develop a standard process of engagement with service users.This engagement process will allow a high volume of their narratives and experiences to be heard and used to benchmark, guide and develop health services.
This phase will utilise innovative technology and an evidence-based narrative enquiry methodology to collect and analyse the experiences of patients/service users and their families. Individuals' current experience of integrated care will be compared with what the patient voice has identified as good or person-centred and coordinated care (e.g., the descriptors developed in phase one of the project)
The experiences shared with us will form the basis for improving services at local areas and guide further service design. You will be involved as a partner with health service staff in the improvement and design workshops and process.
The Patient Narrative Project team will continue to progress the development of the framework with key opportunities for patients/service users and their families to be involved in the process to design the survey, to quality assure the survey, to interpret the results of the survey, to work at local levels in service improvement and design.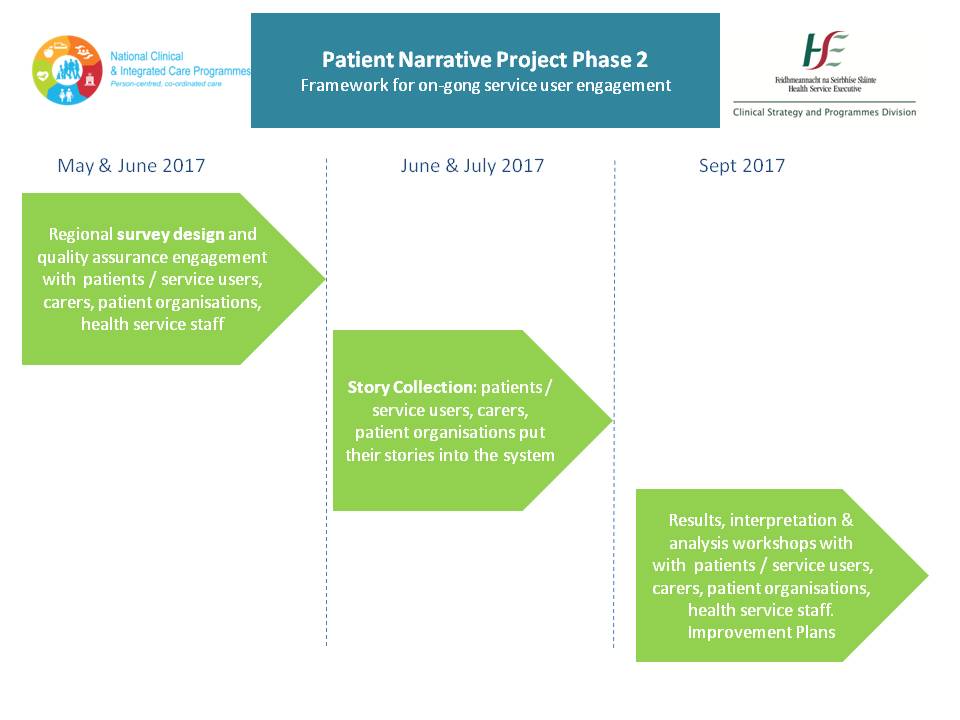 Further information about how you can be involved will be available soon.