Sustainability news and events
Midlands Regional Hospital Portlaoise Go Green for St Patricks Day
A Green Awareness Day took place in Midland Regional Hospital Portlaoise on 15 March 2022.
The purpose of the event was to raise awareness and engagement among staff in relation to energy efficiency and waste reduction. 
Hospital consumption rates for both energy and waste were displayed, and information on saving energy and reducing waste was shared with staff. A Green Quiz was held, with over 50 entries, for a chance to win a 100 euro one4all voucher kindly provided by Hospital Management.
The event was organised by Midlands Regional Hospital Portlaoise Green Team who have been successful in introducing green initiatives to the hospital, with information on these initiatives provided on the day. New green initiatives currently being considered by the Green Team were also displayed at the event. 
The Team is currently led by Majella Bannon the Facilities Coordinator for the hospital. Other key members of the team include Avril Allen, Aishling Roache, Claire Julian, Richard Eustace, Steven Minogue, Cheryl Matthews and Emma Mullins. The Team is also supported by Evan Weatherup and Ken Hyland from HSE Capital & Estates Climate Action & Sustainability Office.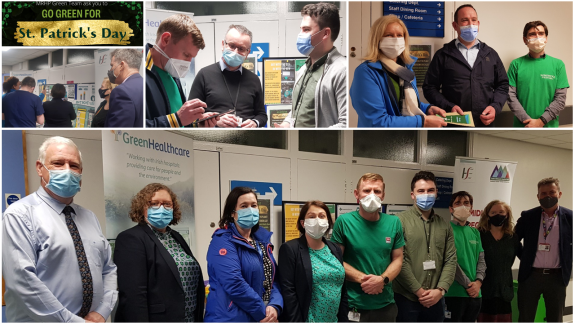 Sligo University Hospital Awarded An Taisce Green Flag
Sligo University Hospital has been awarded the prestigious 'Green Flag' and becomes the second hospital in the country to attain the award from An Taisce and the Foundation of Environmental Education (FEE).
The internationally recognised 'Green Flag' was awarded following a rigorous assessment process and recognises the commitment of hospital management and staff, HSE Estates, the NUI Galway Medical Academy and the hospital's Green Campus Committee in developing the hospital as a healthcare facility that delivers high quality care, improved public health and wellbeing in an environmentally responsible and sustainable way.
Hospitals switch off to tackle climate emergency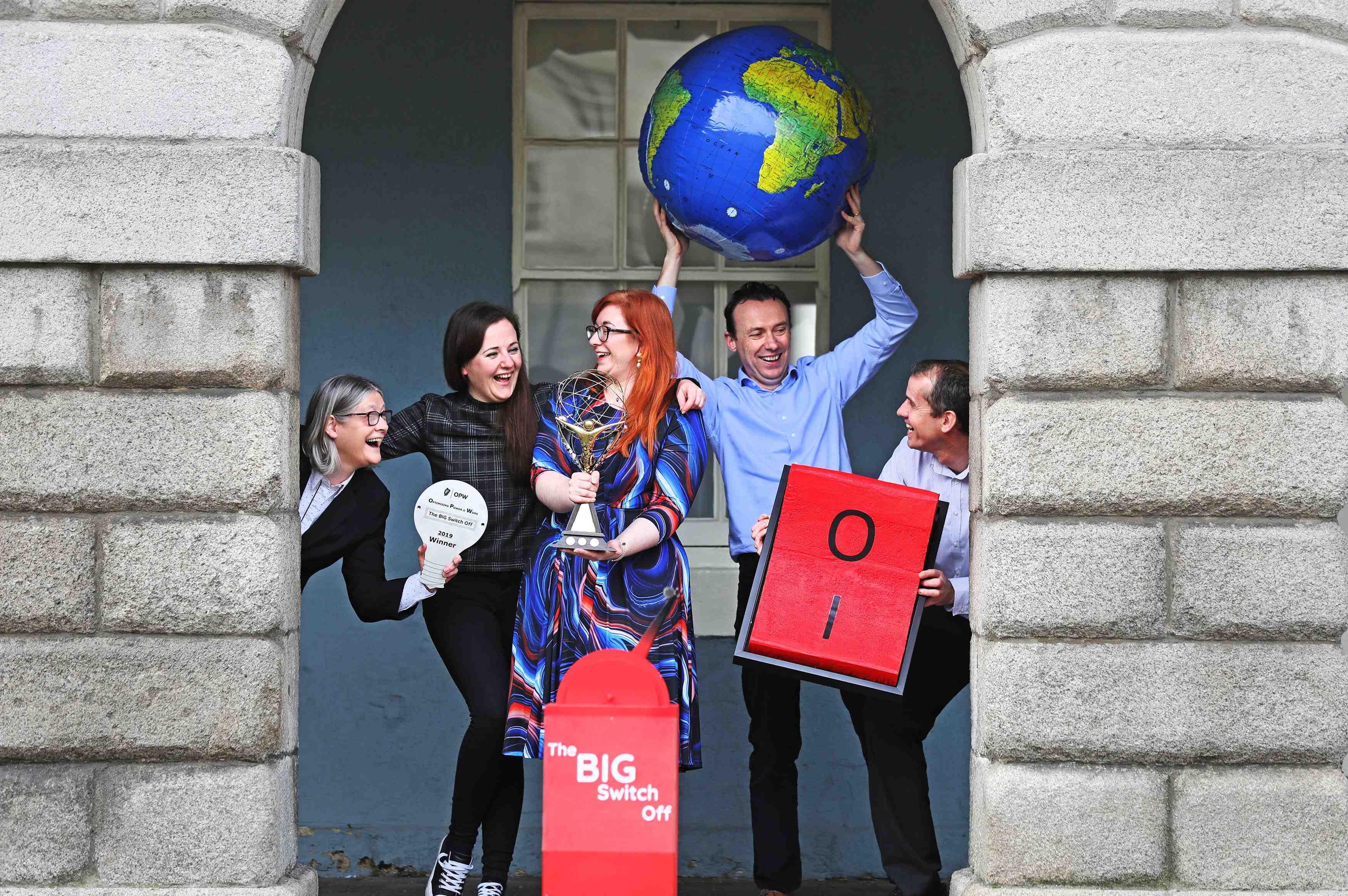 University Hospital Galway was named winner of 'The BIG Switch Off' competition at an awards ceremony in Dublin, on the 22nd January. 'The BIG Switch Off' is run by the Office of Public Works (OPW) in collaboration with HSE Estates and is part of the Optimising Power at Work staff energy awareness campaign.
Last year's winners, Regional Hospital Mullingar was named runner up, while Our Lady's Hospital Navan, University Hospital Waterford and Cavan General Hospital were highly commended. Points were awarded based on the percentage of energy saved by hospitals, as well as for the number of engagement activities they participated in.
Eight hospitals nationwide took part in this year's competition, demonstrating the positive impact individual actions can have in reducing the carbon footprint of the health sector. Over a period of just three days, the hospitals saved enough electricity to power an average operating theatre for 184 days and more than 2,000 hospital staff signed a pledge to make an extra effort to switch off non-essential equipment, making a positive contribution in preventing wasted energy which contributes to the ongoing climate emergency.


Health Sector Climate Action Seminar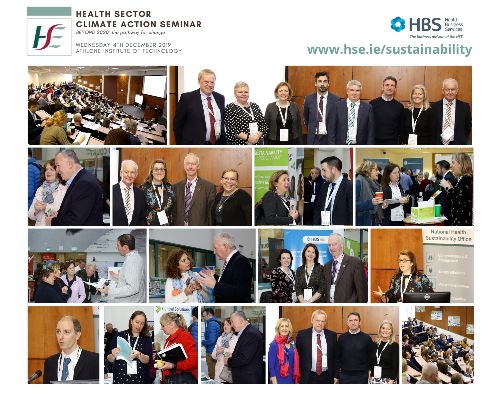 The Health Sector Climate Action Seminar was held on the 4th December in Athlone Institute of Technology. The theme of this year's seminar was Beyond 2020: The Pathway for Change and speakers addressed the latest challenges and opportunities for the Health Service in relation to Climate Action.
There was a fantastic interest in the seminar from staff across the organisation, which was important as "to have a sustainable environment, it's not just about engineering, it's about people and people changing their actions", as stated by the Head of HSE Estates and event chair Jim Curran in his opening address.
In session 1 Dr Ina Kelly, HSE Consultant in Public Health, Dr Colette Bonner, Deputy Chief Medical Officer in the Department of Health and Eoin McLoughlin, Assistant Principal in the Department of Communications, Climate Action and Environment explored the impact of climate change on health, along with outlining National Climate Adaption and Mitigation plans.
Session 2, which was chaired by Peter Smyth, Assistant National Director in HSE Estates, focussed on improving energy efficiency the healthcare estate and speakers outlined how they are reducing energy use through design, planning and the newly established health sector Energy Bureaus.
The afternoon session was chaired by Jim Murphy, National Lead in the HSE's National Health Sustainability Office. This session focussed on the wider sustainability agenda and included speakers on water conservation and reducing the use of single use catering plastics. The session also explored the importance of embedding sustainability in the organisation and the synergies that exist between the organisations sustainability goals and other health sector programmes such as Healthy Ireland, a government-led initiative aimed at improving the health and wellbeing and the HBS Operational Excellence Lean Programme.
There was also a range of exhibitors at the seminar giving useful advice and guidance to attendees on how they can improve sustainability in their workplace. Attendees also had the opportunity to calculate their carbon footprint and were invited to make a pledge to change one thing to improve sustainability at work or home.
Health Sector Climate Action seminar brochure (PDF, 1.8MB, 13 pages)