Knowledge Management Work

Health Intelligence is the development and use of knowledge to support decision making to improve the health of the population. The Health Intelligence Team work to support the health system to make good decisions for better health and social care by using the evidence base of health.  The objectives of the team are: 
Development of evidence-based analyses, products, reports, surveys, methodologies that inform key strategic and operational decision-making needs, including further use and development of the Health Intelligence Ireland information system which is currently supporting development of NQAIS (the National Quality Assurance Intelligence system.
Enabling health service staff use a range health intelligence, evidence, and knowledge for health, through information and knowledge systems, facilitation of groups and teams in decision-making change processes, interventions to get research into practice, and targeted skills training.
Enabling Research and Development in the health system through direct working with internal HSE research structures, and linkages with external research bodies (participation in steering groups and authorship of research papers).
Priorities:
the widening use of the Health Intelligence Ireland information system and NQAIS  to help drive quality, safety, and efficiency of health services
the expert review of clinical and health services  evidence in collaboration with the clinical programmes and other service delivery units of the health service
working directly in an advisory, facilitation, and project management role with clinical programmes and care group service leads on key pieces of work.
Health Intelligence Ireland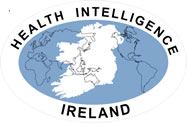 Health Intelligence Ireland exploits the potential of integrating geographical information system technologies, health datasets (census, HIPE, mortality etc) and statistical computations in a web-enabled and open source environment. It will provide role-based access to "health mapping" across the sector in support of service planning, epidemiology, emergency responding and research.
A public interface for infectious diseases is also planned. Following a restricted EU tendering process, the system development is being led by the HSE in partnership with UCD and NUI Maynooth. Seed funding was provided by the HRB and the HPSC (Health Protection Surveillance Cente), HSE. Contact Health Intelligence Ireland