Population Health Information Facts
Area Profiles are Census 2011 factsheets which have been produced for a selection of different geographical areas. They are available for counties and administrative counties, 43 Dáil Constituencies (2007), 40 Dáil Constituencies (2013) and for 272 cities and towns with a population of 1,000 and over.
Click here to visit the census area profiler
Census 2011 This is Ireland (Part 2)
This report contains the census results for the State as a whole, covering the following topics: employment, occupation, education and skills, and health related questions.  
Health Intelligence Ireland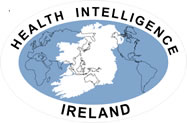 Health Intelligence Ireland exploits the potential of integrating geographical information system technologies, health datasets (census, HIPE, mortality etc) and statistical computations in a web-enabled and open source environment. It will provide role-based access to "health mapping" across the sector in support of service planning, epidemiology, emergency responding and research.
A public interface for infectious diseases is also planned. Following a restricted EU tendering process, the system development is being led by the HSE in partnership with UCD and NUI Maynooth. Seed funding was provided by the HRB and the HPSC (Health Protection Surveillance Cente), HSE.
Contact Health Intelligence Ireland
Health, Disability and Caring - Central Statistics Office (CSO)