Meal Inspiration
Week 5 - 10th June 2019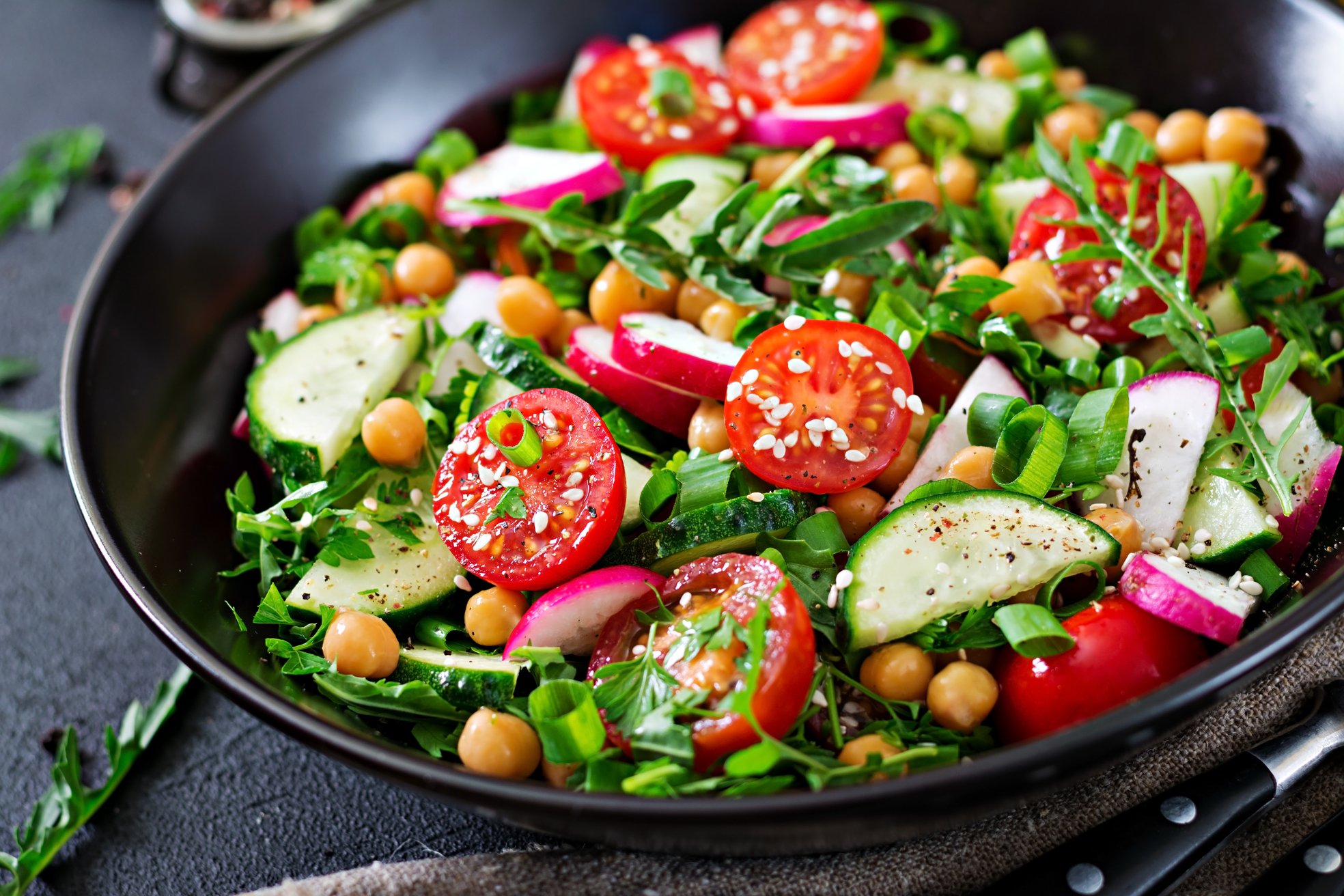 Ingredients 
1 red onion, cut into wedges
2 courgettes, thickly sliced
1 red pepper, cut into large chunks
375 g of tomatoes, halved
50 ml of olive oil
Juice ½ lemon
2 x 400 g cans of chickpeas
100 g of feta, cut into cubes
Methods
1. Preheat the oven to 220°C / 425°F / Gas Mark 7.
2. Put onion, courgettes, pepper and tomatoes on a shallow baking tray.
3. Drizzle with 20 ml of olive oil and stir.
4. Roast for 30 minutes, stirring halfway through, until vegetables are cooked and beginning to brown.
5. Mix the lemon juice and remaining olive oil in a bowl for the dressing.
6. When the vegetables are cooked, allow them to cool for 5 minutes.
7. Place the vegetables into a bowl with the chickpeas, feta and dressing.
8. Stir and serve.
Week 4 - 4th June 2019
Chicken and broccoli bake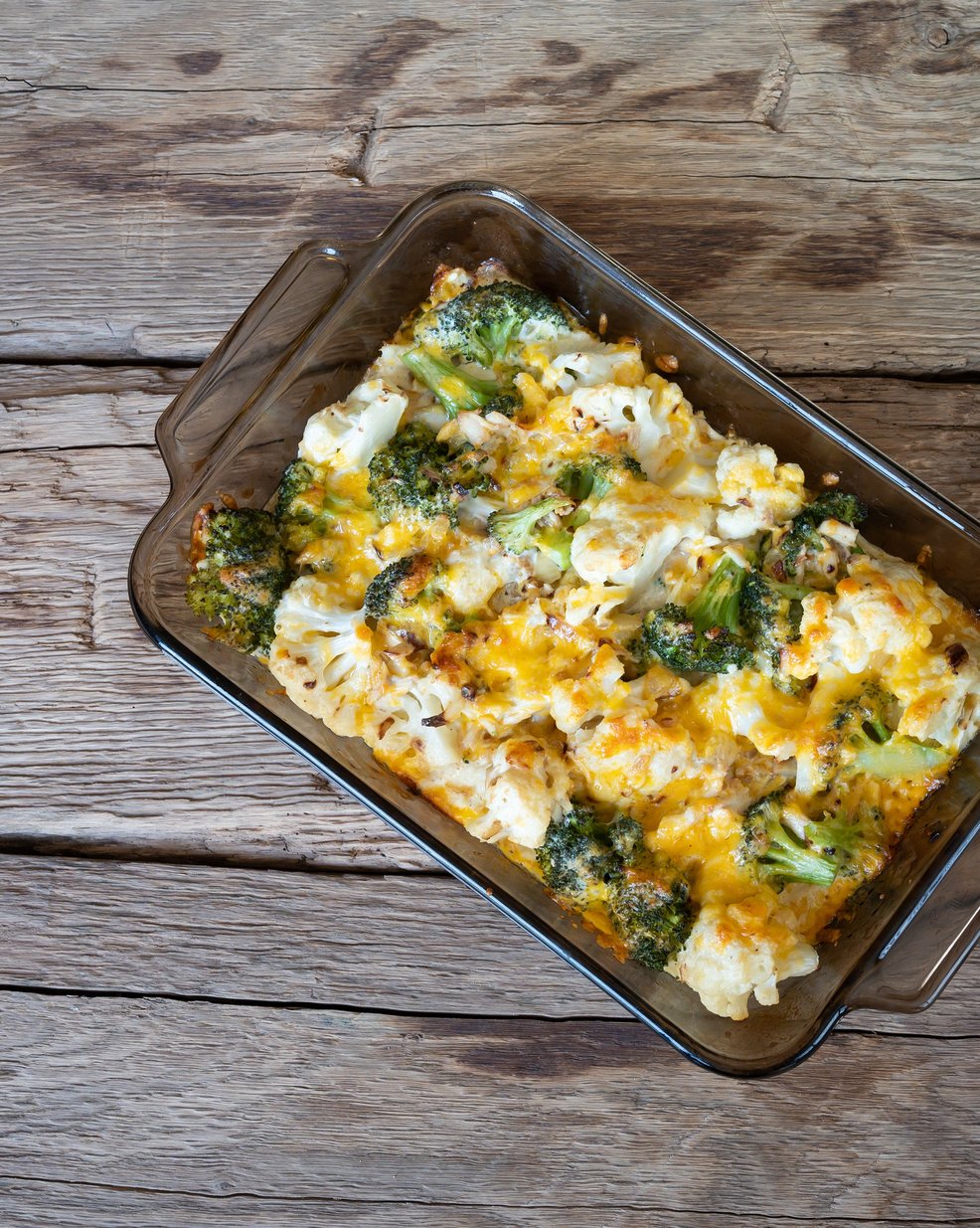 Ingredients - Serves 4 Adults
1 tablespoon of vegetable oil
4 medium chicken fillets, chopped
1 medium onion
450g / 1lb of broccoli florets
1 tin of chicken or mushroom soup
1 ½ dessertspoons of curry powder
150ml / ¼ pint semi-skimmed milk
50g / 2 oz. of brown breadcrumbs, 2 pan slices
50g / 2 oz. of low-fat cheddar cheese, grated
Salt and pepper, to taste
Method
1. Pre-heat the oven to 220°C / 425°F / Gas Mark 7
2. Heat the oil in the saucepan
3. Chop the onion finely and fry for 2 to 3 minutes
4. Add the chicken pieces. Cook for 10 minutes
5. Cook broccoli in boiling water for 3 to 4 minutes
6. Mix the milk, soup and curry powder together in a jug
7.  Put the cooked chicken pieces, onion and broccoli into the casserole dish
8. Pour in the soup mixture, season with salt and pepper to taste, and cover with the breadcrumbs and grated cheese
9. Cook in the pre-heated oven for 30 minutes
Serving Suggestions: Serve with freshly steamed carrots or baby potatoes
About this Recipe: This recipe was adapted from 101+ Square Meals
Week 3 - 27th May 2019
Vegetarian stir-fry with cashew nuts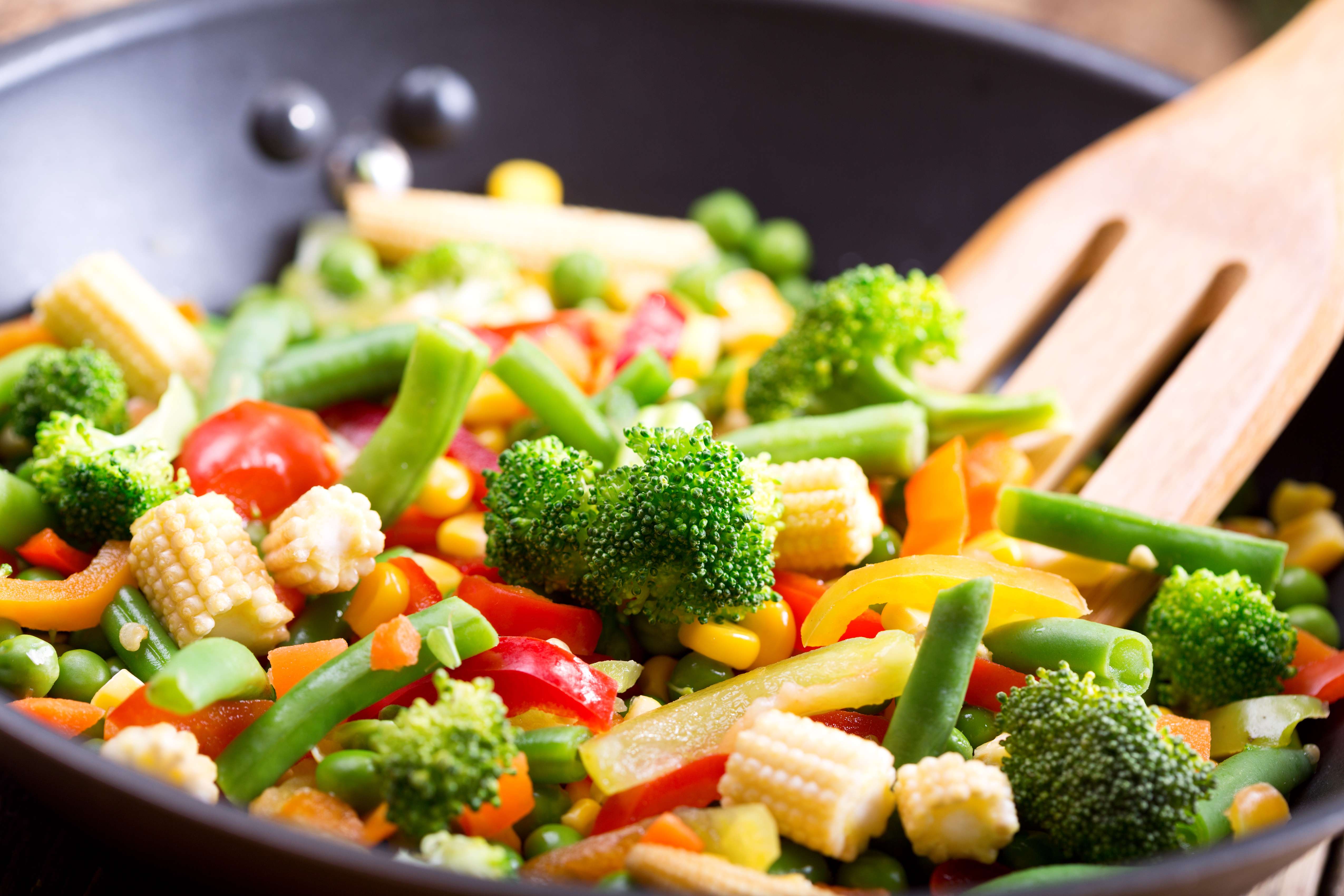 Ingredients - Serves 4 Adults
1 tablespoon of olive oil/ 1 stock cube 
1 medium onion, peeled and sliced
1 clove of garlic, crushed
1 red pepper, sliced
1 yellow pepper, sliced
100g / 4 oz. of broccoli florets
175g / 6 oz. of baby sweetcorn, halved
2 courgettes, sliced
2 tablespoon of light soy sauce
2 tablespoon of water
5cm / 2 inch piece of fresh root ginger, grated and juice squeezed out
50g / 2 oz. of unsalted cashew nuts, lightly toasted
Method
1. Heat the oil in a wok and fry the onion and garlic for 3 minutes. Add the peppers and fry for 3 minutes more
2. Add the broccoli florets, sweet corn and courgettes and continue to fry for a further 5 minutes
3. In a small bowl, mix together the soy sauce, light stock and ginger juice
4. Using a wooden spoon, make a space in the centre of the stir fried vegetables so that the base of the wok is visible. Pour in the sauce and bring to the boil, stirring all the time until it starts to thicken
5.Toss the vegetables to coat thoroughly with the sauce
6. Transfer to a serving dish and sprinkle with the cashew nuts
Serving Suggestions: Serve with brown rice or noodles
About this Recipe: Add tofu or shitake mushrooms to increase the protein content
Week 2 - 20th May 2019
Banana and Oat Smoothie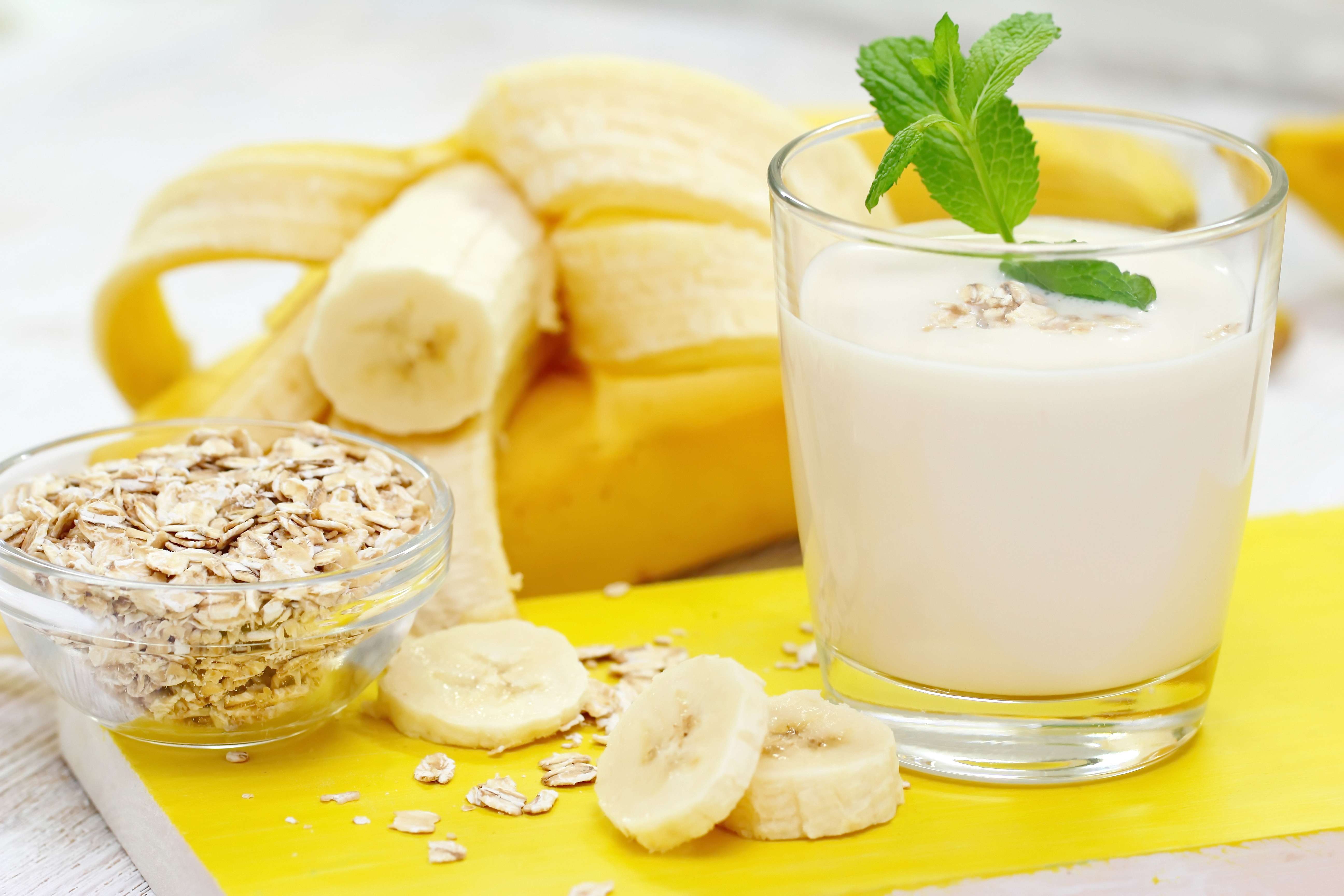 This filling smoothie will keep you going all morning as well as giving you a healthy start to the day. Perfect if you're keeping an eye on your waistline.
Ingredients - Serves 1 Adult
150ml / 5fl. oz. low fat milk
1 medium banana
3 tablespoons oats
Method
1. Put all the ingredients into a blender and blend for 30 seconds 
2. Drink and enjoy!
Yes - it is really that quick and easy.
Serving Suggestions: Try with a variety of fruit – strawberries, raspberries, pears or peaches (tinned or fresh) all work well. Use fruit yoghurt instead of milk for a thicker drink
Tip: Oats are one of nature's most nutritious whole grains and are rich in natural fibre. They are fantastic for a healthy bowel and are also slowly digested, which means they keep you going for longer. Oats are an ideal food for people with diabetes as they help to keep blood sugar levels steady.
Week 1 - 13th May 2019
Chickpea Curry
This curry is a quick tasty dinner. Make extra and it is great for lunch the next day.
Ingredients - Serves 1 Adult
60g / 2oz. of basmati rice
1 teaspoon of vegetable oil
1 small onion, peeled and diced
1 clove of garlic, peeled and crushed or finely chopped
1 small tin of chopped tomatoes (227g / 8oz.)
1 teaspoon of curry powder
1 teaspoon of ground ginger
1 tin of (220g / 8oz.) chickpeas, rinsed and drained
1 small red pepper, de-seeded and diced
75g / 2½oz. of frozen spinach
Method
1. Heat the oil in a non-stick saucepan and when hot, add the onion. Fry until softened.
2. Next add the garlic, tomatoes, curry powder and ginger and cook for another 2-3 minutes.
3. Add the chickpeas and red pepper and cook for a further 15 minutes over a medium heat, stirring occasionally.
4. In the meantime, cook rice according to packet instructions, omitting any salt.
5. After your curry has simmered for 20 minutes, add the spinach leaves and let them wilt into the curry for the remaining 5 minutes of cooking time.
6. Drain the rice and serve alongside the curry.
Serving suggestions: Serve with a spoon of natural yoghurt!
Tip: Why not add in some extra vegetables by adding peppers and mushrooms?
This meal is suitable for vegetarians. This recipe has been taken from safefood.