Peter pounds the roads
Meet our New Blogger - Peter Dineen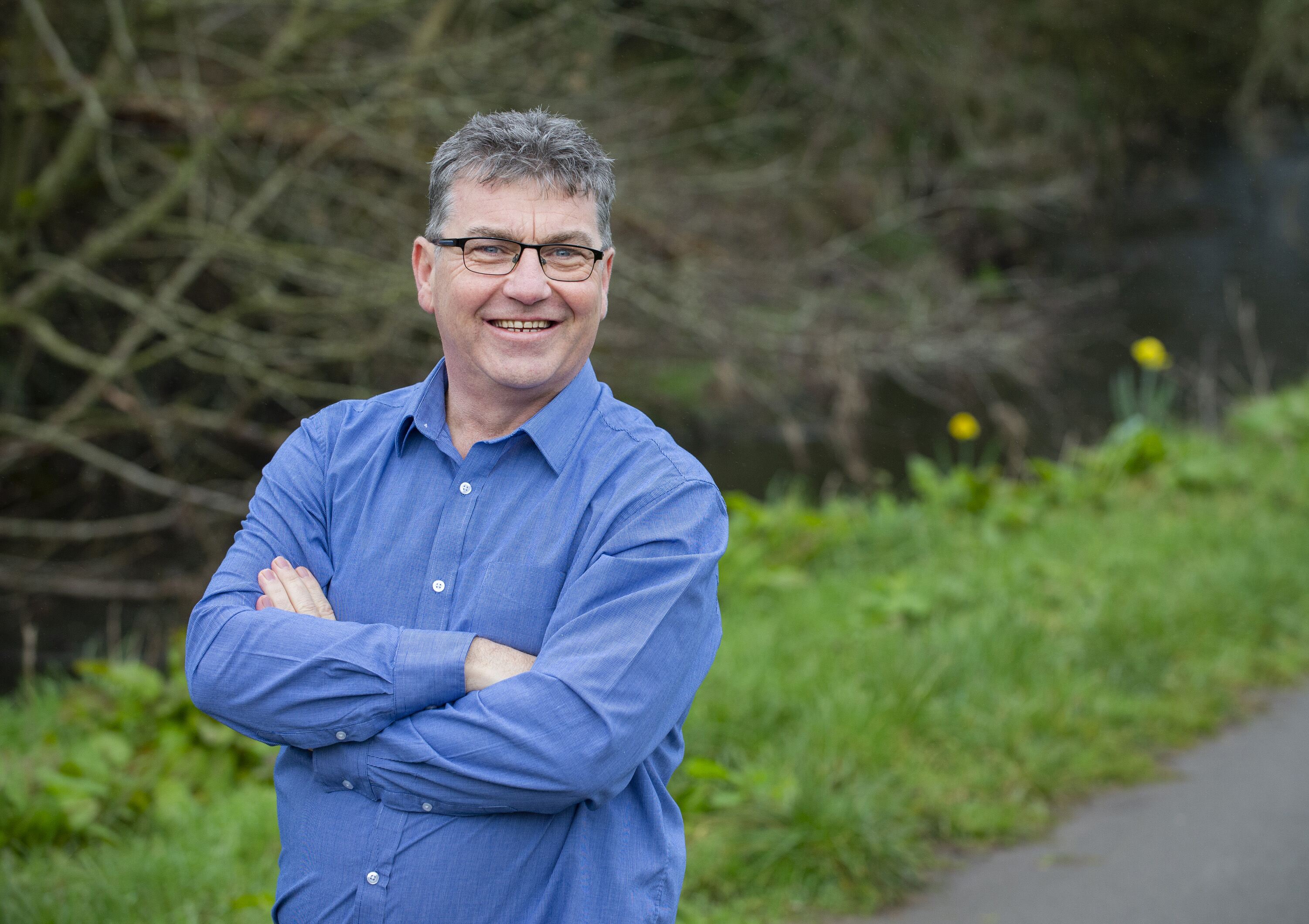 17th June - It's not the end but the start
So that's it, 5 weeks of 10,000 steps a day. Runners worn away, new friends made (including a dog) new places discovered; cities, cemeteries, country roads and national parks explored. 5 weeks of lunchtime, early morning and evening walks, gallons of water consumed and about 3 kilos of midges and flies swallowed! It's a good job I'm not vegetarian.
This 5 week challenge has been brilliant. My health has definitely improved and I feel better for having decided to give it my best shot . Of course there were days that were tougher than others but overall it wasn't too bad.
The last week was my best one. I walked, I jogged and I danced. Well I say I danced and to be honest in my mind that's what I was doing at my friend's wedding but in reality I imagined I looked like a hippo on roller skates, moving, but not very gracefully. It got my steps in though. My best day last week was Thursday. I managed 20,009 steps. I walked in Killarney in the morning, around Kenmare town in the afternoon and at home in the evening. But to reach the 20,000 before midnight I had to walk around my kitchen about 50 times as the clock ticked down. I was delighted to reach it but not very proud of the step monster I've become. I mowed the lawn twice last week just to get the steps in. The garden that once looked like a ploughed field could now be mistaken for  the 17th green at the Augusta golf course.
I've lost weight over the last 5 weeks. My knees look different. I was getting dressed the other day and they just looked different, these knobbly unattractive things looked even more knobbly. I never gave them that much thought before now. I mean they are not the most appealing part of the body and not the most shown off part either.  I've never heard anyone saying that their knees are their best feature or how it was their partners knees that first attracted them. You never see ads on TV selling creams and other aids helping you to make your knees the best that they can be.
No, knees are just there quietly doing their job and trying their best not to let us down.   Mine must be under constant pressure trying to support the upper part of the body but thankfully they haven't given up yet. I think it was Wednesday that I noticed something different about the essential joints in my supporting pillars. I noticed that I still actually had knees.  You see, weight loss is a strange thing.  I would ideally love to lose weight off the belly, that's where I have most of it but it doesn't work like that. You lose it everywhere.  Your face, your neck and I have even lost it from my wrist and now believe it or not, around my knees.  I have begun to see my kneecaps again, the fat around them has been pared back a bit and the shape of these bones have become visible after years of being covered up for so long.  I wonder how many years and miles of walking and sweating I'll have to endure before I see my abs or even a rib.
I've really enjoyed the last 5 weeks and I hope to keep up the challenge of doing at least 10,000 steps a day. I enjoy feeling fitter and healthier. I enjoy the walking and I'm loving the challenge of the Saturday morning Park Runs but I don't think I'll ever become a person obsessed with running or fitness and I don't want to. I like walking, but like most people there are times when I'm lazy or tired or afraid of the rain or the cold to get up from the desk or the couch and walk. I'm flawed, I eat scones and takeaways on occasion, I park near the door some days, I sit in my car and flick through social media while my young fella is at training and I look at the weeds growing instead of getting out and digging them up. But this challenge has meant that I do all these things less and I do hope that I can keep all the good habits that I've started over the last 5 weeks.
I regret not having started getting fitter before now. Years of doing nothing or very little meant that taking up this challenge wasn't easy but it was necessary.  10,000 steps a day is a great way to start and it's something that is easily achievable for most of us. To borrow some of an old Chinese proverb "The best time to get fitter and healthier was 10 years ago – the second best time is now".
So now as the challenge comes to an end for this year I'm looking forward to continuing walking with friends, family and colleagues.  To the ongoing improvement of my physical and mental health,  to discovering new places, to the joy of being out in the fresh air and taking in all that's around me,  to pushing myself that little bit, to being outside my comfort zone every now and again and to gazing lovingly at my new knobbly knees.
Enjoy the walking.
Peter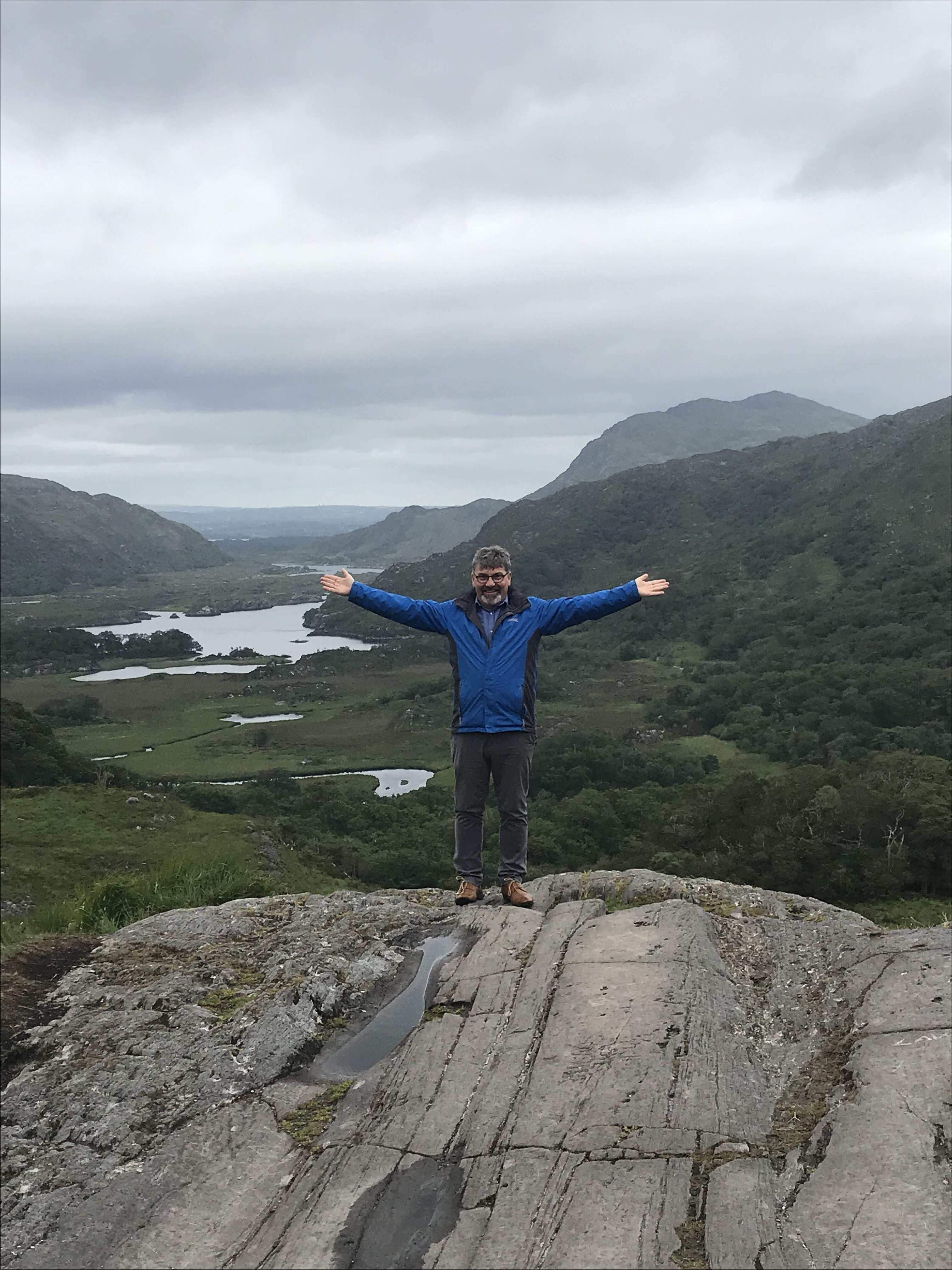 10th June - Final week of the Challenge is here
The finish line is in sight and the steps continue to be racked up. The daily challenge of 10,000 is certainly easier to reach as the weeks go by and it is now very normal to reach the target or even surpass it.
The novelty and fun of the first few weeks has been replaced by the daily habit of getting out there and doing the steps. The only obstacle over the last seven days has been the awful weather. I was hopeful, like everyone else that the usual Leaving Cert heat wave would makes its annual appearance but instead it just rained, rained and rained as if to match the mood of the students. 
I promised myself at the beginning that there would be no excuses from me to put off going for a walk so instead of sitting here looking out at the sheets of rain and cursing it I just threw on the raincoat and headed off out to soak it up. There is always something refreshing about coming in home after walking in the rain and feeling soaked. It's as if you've almost been trekking in the dangerous and unpredictable wilderness instead of just walking up and down the local road a few meters from the safety of your own home.
A lot of my walking is now in isolation as my colleagues and I are finding it harder to come together as a group to walk at lunchtime.  Walking alone isn't the worst thing you can do but I do tend to stroll a bit more rather than step it out when I don't have someone striding out along side me.
On Saturday I headed to my local Park Run and joined the hundreds of others at the start line, well a bit back from the start line as the runners are always up the front and for good reason. The last thing you want to do is hold them up or get knocked down as they chase down their best time. All I wanted to chase was the finish line. After almost 50 minutes and after been lapped by about 70 runners I reached my goal. I have to say it was a great experience and something I will definitely be doing again. I'm not sure if I could have completed a Park Run a few weeks ago but the regular daily exercise has meant that 5km isn't such a huge obstacle to me anymore. I'm not sure if I'll ever be able to run it but walking is just fine for me at the moment.
I headed to the local coffee shop after my Park Run and indulged in a cup of coffee.
The final week of the challenge is here and I'm looking forward to seeing what it brings. I'm planning on one final big effort to match my colleagues for pace and stamina. I think my fitness levels are up to it but my short legs may hold me back. I'll do my best.
Peter
4th June 2019 - Chasing steps and chickens
So you can have good weeks and you can have bad ones. The last week for me was a bit of a disaster of a one.
There were some days this past week that I barely made 7,000 steps never mind 10,000. Half way through this 5 week challenge, I was struck down with Man Flu.
This life threatening illness just sucks the very life from you. I know some people may describe this disease as just the common cold but trust me when you're a man it is much worse than this. This awful pain deep inside your body, the heavy chest, the runny nose, the headaches and the tiredness, no the exhaustion is something I wouldn't wish on anyone. Some men have described it as the equivalent to a week-long childbirth. How they know this is unclear and I hope for all women's sake that it's untrue.
Man Flu consumes you, it turns you into someone else, someone who lacks the energy to walk or crawl across the kitchen for a paracetamol or a cup of life saving Lemsip not to mind 10,000 steps. But the worst part of Man Flu is the lack of sympathy and understanding from half of the population and those women closest to you. "It's a cold, Peter, get over yourself and go to work". So much for our wedding vows 'In sickness and in health'.
When I was well enough to walk again I got back into the challenge and had some good days. I went for a walk in Dublin and was taken to the beautiful Arbour Hill cemetery. I also spent the long weekend walking the roads with my new pal, Fluffy.
I've read all about the supposed benefits of what walking for just 30 minutes a day can bring you but I must admit that I was slightly suspect about them. I'm now a walking convert. I really had no idea that walking could be this good for you. This steps challenge isn't so bad, in fact once you develop the habit of taking the time to and effort to set out for a walk it becomes very easy, it may only be 30 to 50 minutes out of your day but it is a time I look forward to. It's a welcome break from the office, the phone and the noise. It's good and advisable to walk with friends and colleagues but I find it equally good to take a walk on my own or with my new four legged friend. The solitary stroll is a great way to have some time with your own thoughts, your own madness and to reflect. I suppose you could call it mobile meditation. Better mental health is definitely one benefit of walking.
Another advantage of walking is the physical health benefit. I walked to my local garden centre and coffee shop on Saturday morning. The 5km walk along country roads was a glorious one, full of birdsong, flowers and sunshine. I felt good and felt I deserved that freshly baked scone. Weight loss has been an unexpected benefit of this steps challenge. 10,000 steps a day has helped to maintain my weight and led me to losing even a bit.
Walking is supposed to be good for toning the body and I do need to lose the beer belly but my fear is that I may lose weight and tone up some of parts of my body that may not need it and after the 5 week steps challenge my stomach will remain the same size but I might have a fantastic bum.
To make sure I keep myself from getting bored with just walking I've decided that I should try other activities as well to get in my steps. So far I've indulged in a bit of cycling and cross country hiking and even trying to catch my chickens. 
The week ahead is looking good, I'm looking forward to really going for it this week after last week's poor performance. I'm hoping to try and make as many steps each day that I can, either alone or with my colleagues. I might do my local Park Run (walk) next Saturday instead.
Have a good week and I'll let ye know how I get on.
Peter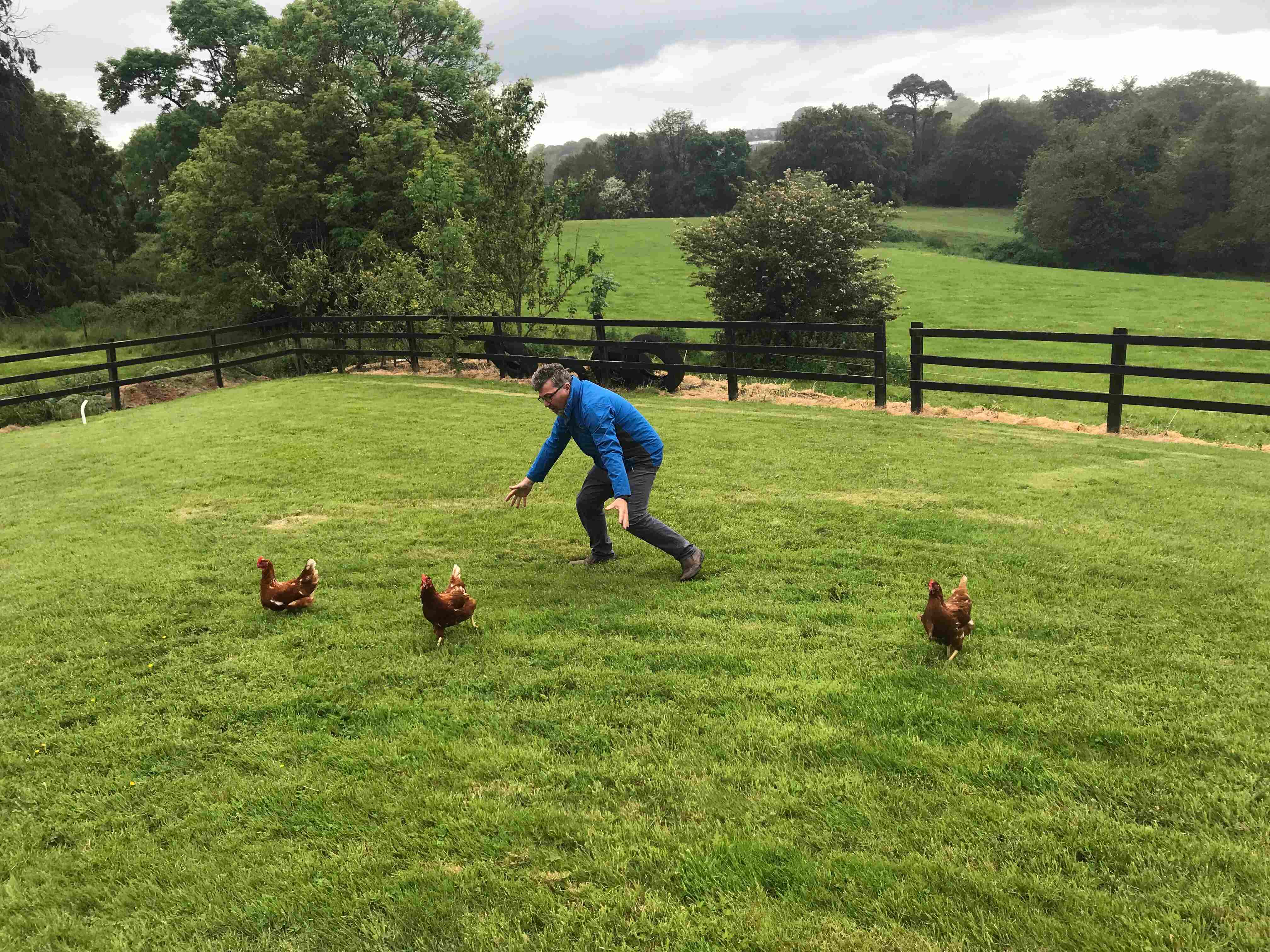 27th May 2019 - Getting the steps in
I'm getting into this now and it's almost becoming a habit. Over the last 7 days I've walked on roads, river paths, across fields, up streets and through shopping malls just to get the steps in. And I'm not the only one!
I have come across people doing the strangest things this week. I spotted a colleague of mine walking around the car park as he waited for his daughter to meet him. "I'm getting the steps in Peter".  Another colleague was walking up and down the office while on a teleconference call - for an hour!  I even saw a group leader on the Dublin train walking up and down the carriages and checking her bright green pedometer every now and again. When she passed my seat for the 10th time, she whispered "I'm getting the steps in".  I think she reached her target around Limerick junction.
I've heard of and seen groups of walkers using the 'Steps Challenge' to explore their locality, find out more about their hospital campuses, walk to nearby coffee shops and discover previously unknown parks and trails near where they work. They're doing all this to get their steps in. It seems this walking lark is infectious.
I was afraid that the novelty would have worn off me this week and I would have begun to come up with the usual excuses, but here I am at the end of week 2, still committed to the 10,000 every day. The lunchtime walking is where I get most of my daily steps in. I went out on my own on Monday but joined colleagues on the other 4 days. It is so much easier and better, to walk with other people and definitely more fun. Being part of a walking group really helps me to keep going.  Although I'm committed to this, it's not always easy. To be honest, sometimes , it's a bit of a struggle to get up from the desk. But just walking with others, even one more makes it easier, more enjoyable and it really does make you feel better.
It was only going to be a matter of time before it happened. My  fear of dogs got hold of me this weekend.  I took to the local roads on Saturday morning and as I rounded a corner, there he was…, a vicious, rabid and dangerous dog, running freely up and down the empty road obviously looking for something to chew on for breakfast. He stopped when he saw me, stood in the middle of his road and barked. I don't understand dog language but I bet his barking was saying "ooh human meat, looks a bit old and tough but I'll try some shin". I slowed down, but continued walking towards him. He stayed barking. We were eyeing each other up and not in a good way! I decided to try and reason with him, "I'm just getting the steps in", I said. It made no difference, he didn't care or didn't know about the 'Steps Challenge' (he's obviously not on twitter). He kept barking, licking his lips and looking at my shins. Then his owner came out of the house,
"Ah 'tis yourself Peter, out for a walk, ah 'tis grand for you. Are you trying to lose weight or get fit"? "I'm trying to get past himself there before he takes the legs off me"
 "Who? Fluffy? Sure he won't touch you, he's the quietest little fella you'll ever meet"
"He's doing an awful lot of barking"
"he's only being friendly, Peter"
 Every dog owner says that.  I've never met one who tells you to stay away from their pet as they will probably rip you to shreds in seconds.
"You'd never do me a favour Peter, would you mind taking Fluffy with you on your walk, here's his lead"
"Will he eat me?"
"Not unless you're a bag of Aldi dog nuts"
Fear gripped me, but there he was, running around my legs, wagging his tail, full of excitement at one end of the lead and my shaking hand at the other.
I won't bore you with the details of our walking adventure, just to let you know that he didn't bite me or eat me. There were times when it seemed that he was taking me for a walk more than I was taking him.
Fluffy sniffs at everything, barks at crows and is afraid of cars. He rolls on his back from time to time and when you rub his tummy, he closes his eyes and I swear it looks as if he smiles. Oh, and I think we're friends.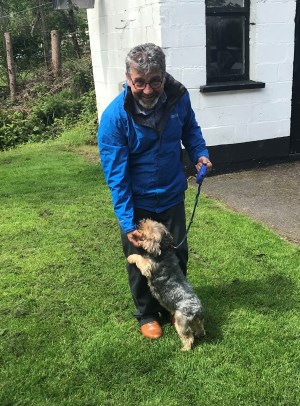 I'm taking him for another walk this evening. I said I'd put up with him for another hour. It's Just so I can get my steps in. No other reason. Honestly!
Enjoy the week ahead.
 I'll let you know how I get on
 Peter
13th May 2019  - 10,000 steps a day and no excuses. 
And so it begins.
This is my first day of the 10,000 steps a day 'Steps to Health' challenge.
I'm doing this challenge for a few reasons. I do need to get fitter and the experts tell me that 10,000 steps a day will help me do this. I also need to get more fresh air, get away from my desk and try something different. I suffer from high blood pressure (and many other ailments) and apparently this walking lark can help to reduce or at least maintain it. So here we go.
I started on a positive note already this morning by parking my car as far away from the front door of the building as possible. I have always tried to grab the parking space right outside the door and then take the lift but I figure these extra few hundred steps every morning from the back of the car park to the door and then the stairs to the second floor could be a huge help at the end of the day.
I'm promising myself that this challenge is going to be five weeks of no excuses. It has always amazed me how quickly I can come up with a wide range of excuses for not doing something and how inventive they can be. So no more days of "it's too wet to walk", "I have the wrong shoes on", "I must go somewhere at lunchtime", "I've a meeting I must prepare for", "my horoscope said not to walk today" "It's Monday, you should never walk on a Monday" and so on.
I'm actually looking forward to walking with my colleagues, having a bit of a laugh and keeping each other motivated as we spend  30 minutes at lunchtime going for a quick (or slow) walk around the area. I'm also looking forward to exploring new walks at the weekends. I might even do a Park Run, well maybe a Park 'walk'!
The one thing that I'm not looking forward to is dealing with the pressure of keeping up or lagging behind. I'm a little nervous about being part of a group that may have a few budding Olympians in it. You know the people I'm talking about, the ones with all the gear - the lycra, the running shoes that cost the same as a small car, the ones that spend ten minutes warming up for a 15 minute walk. Those people who go strolling in the park on a Saturday morning and turn it into an Olympic event.  They are the ones that turn me off walking or even attempting to get out there among them. But I'm determined that I'm going to do this challenge at my pace and if I lag behind the others, it won't matter just as long as I walk.
I dug out my ancient pair of black and blue runners this morning from the back of the wardrobe; they remain in relatively good condition from when I bought them about ten years ago. I think this could have something to do with the fact that they only get around two outings a year. They won't know what hit them when they are forced to pound the roads at lunchtime with my Steps Challenge team, the Rebel Walkers. Will they be able to take the pounding, will they crumble under the pressure, will they feel inadequate among all the shiny new expensive runners and will they retreat back into the depths of the wardrobe again this evening to hide there until next January when they are retrieved for the annual post Christmas fitness fad. I hope they don't and that like me, they will keep walking, at least for the next five weeks.
Enjoy the first week walking and remember, No Excuses.
I'll let you know how I get on.
Peter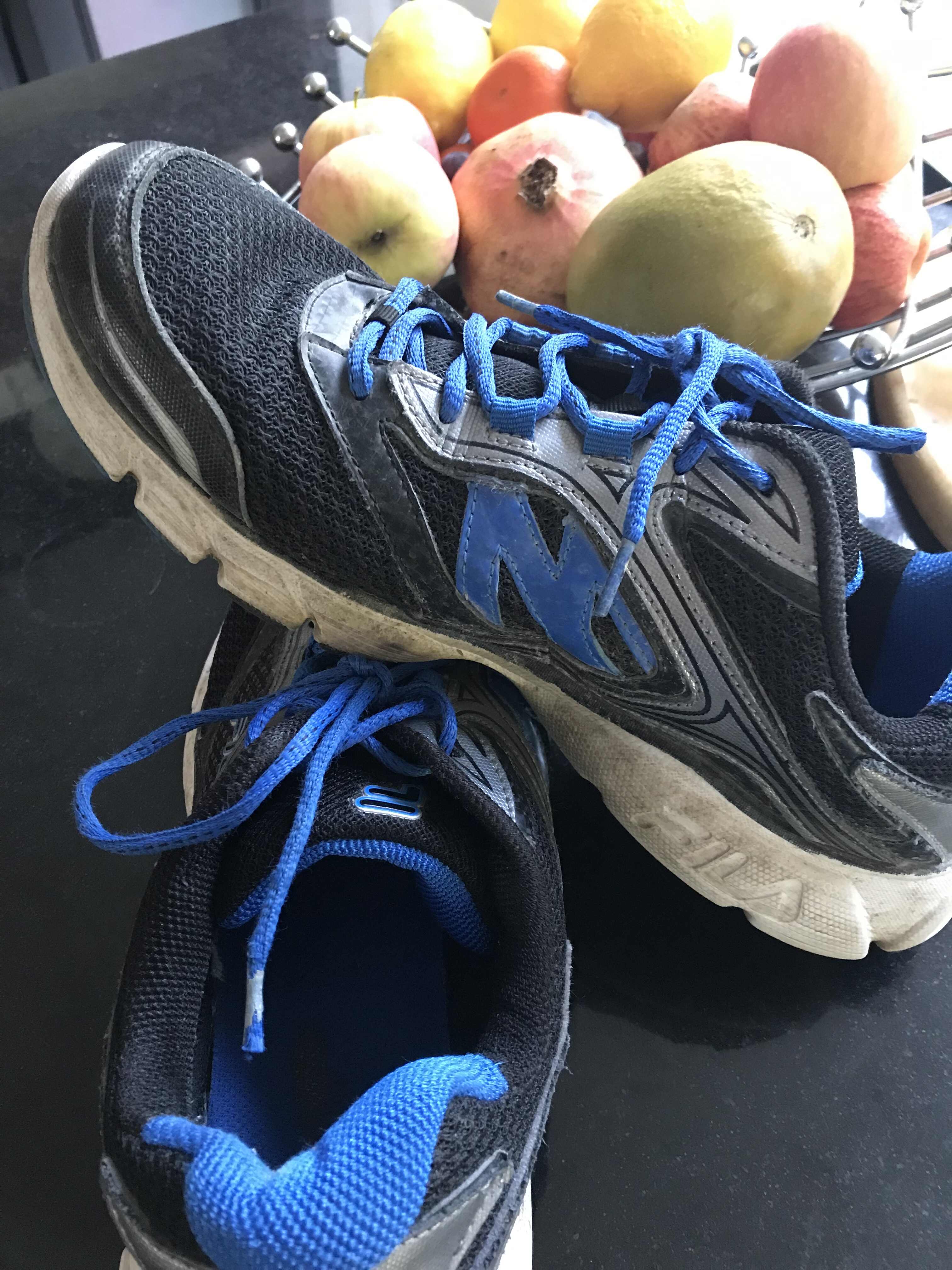 7th May 2019 - One Week To Go!
So here I am, a man who spends at least 6 hours of his working day sitting at a desk and about to start the 2019 steps challenge with mixed feelings of pressure , excitement and trepidation.
10,000 steps a day, a day!
What was I thinking?
My plan is to do 30 mins every lunchtime and to try and get a walk in most evenings after work. That should rack up the steps in no time.
I only have two fears about this walking lark – dogs and over exertion. I live in the country and have an unwarranted fear of dogs. I have never been bitten or mauled by one but I have avoided walking down country roads in case the 'Hounds of the Baskervilles' decide to jump out over fences and gates and decide to devour me. The fear of over exertion is really only an excuse that I have used in the past to avoid going walking , much like the fear of rain, I might melt, or wind, I might blow away (God help us, it would want to be some wind to blow me away). I aim to put all these fears aside and take the first steps to the daily 10,000. I'll let you know I get on.
Peter