National Conference
'Working Together to Support Children & Young People with a Disability and their Families'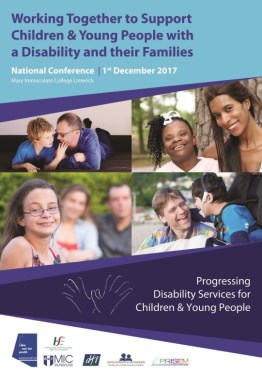 The first Progressing Disability Services for Children and Young People National Conference was held on December 1st 2017 in the Mary Immaculate College, University of Limerick.
This first conference was a landmark event for the Progressing Disability Services for Children and Young People programme, celebrating achievements to date, the development of Children's Disability Network Teams and the progress towards equity of access to services for all children with disabilities and their families, whilst acknowledging work still to do. It was also used as an opportunity for all to showcase good practice in working together and to explore innovative ideas.
The Conference was addressed by Finian McGrath Minister of State with special responsibility for Disabilities, the President of Mary Immaculate College and Dr Cathal Morgan, HSE Head of Operations, Social Care Division. Presentations from children's disability teams, schools, clinicians and parents on diverse topics, such as assessment for autism, parents' support groups and helping children to sleep better, demonstrated partnership working and PDS in action. 
Conference Report published
The full conference report has been published and records the 10 conference presentations, 11 breakout workshops including delegate feedback, poster abstracts from the day and also some examples of current national and international research in this area.  The report will be an ongoing resource to staff and parents and is an opportunity to share and reflect on innovative, good practices and collaborations, as well as the challenges facing children, parents and service providers
The report can be accessed here.
Conference Webinar available
Click on the link below and follow the instructions to access to PDS National Conference Webinar Recording.
https://msite-web.mic.ul.ie/Mediasite/Catalog/Full/163305782881452fa16eee7317d07f1721
Instructions:  Please enter your first name, Surname, email address and the password; 1234 to view the webinar.
Journal article November 2017 - 'They're both excelling' - Reform in child disability services begins to show signs of success'