Connecting for Life - Donegal
Too many people in Donegal have been affected by suicide and we know that every death has a devastating effect on families, friends and the whole community. Connecting for Life Donegal has been developed by an experienced multi-agency group in response to Ireland's national strategy to reduce suicide 2015 - 2020. You can download the Connecting for Life Donegal action plan here and the launch presentation here.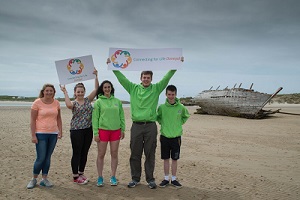 Working together for suicide prevention
Donegal Youth Service and Donegal Youth Councillors went on a road trip across the county and had people share their experiences of how they looked after their own mental health and their advice for others who may need it. Watch the video below, or follow this link (opens in new window) to access the video on YouTube.
Many people across the county have also been consulted as part of preparing the plan, including community members, community groups, people who have been bereaved by suicide, nurses, doctors, consultants, researchers, sports organisations, youth services, transport services, coroners, the Gardaí and members of the public. We have taken an open, consultative and inclusive approach and we want this to continue throughout the implementation of the plan.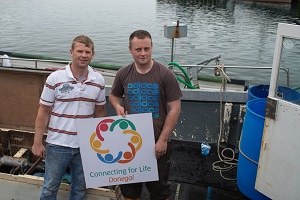 Mental health problems are common and this points to the need for us all as individuals to be aware of our own mental health and the mental health of the people around us. We all need to make ourselves aware of the signs and symptoms of mental health problems and suicidal behaviours. We also need to know where to go for help and to be met by professionals and services that are caring, person centred and easily accessed. In delivering the actions in our action plan, Connecting For Life Donegal, we need to work together, suicide prevention is everyone's concern, and taking shared responsibility and accountability for making Donegal a happier, healthier place where suicide is a very rare occurrence will help us build a stronger and more cohesive county for everyone. We are looking forward to working together to successfully implement all of the actions in Connecting For life Donegal.
Our vision and goals
Connecting for Life Donegal is based on the same vision, goals, objectives and measurable outcomes as the national strategy. The action plan will track its progress against the national primary and intermediate outcomes which have been mirrored at a local level.
Vision
"A county where fewer lives are lost through suicide,
and where communities and individuals are empowered
to improve their mental health and wellbeing".
Strategic goals
To improve the county's understanding of, and attitudes to, suicidal behaviour, mental health and wellbeing.
To support local communities' capacity to prevent and respond to suicidal behaviour.
To target approaches to reduce suicidal behaviour and improve mental health among priority groups.
To enhance accessibility, consistency and care pathways of services for people vulnerable to suicidal behaviour.
To ensure safe and high-quality services for people vulnerable to suicide.
To reduce and restrict access to means of suicidal behaviour.
To improve surveillance, evaluation and high quality research relating to suicidal behaviour.
Each goal is based on the achievement of a set of supporting objectives.
Primary outcomes
Reduced suicide rate in the whole population of Donegal and amongst specified priority groups.
Reduced rate of presentations of self-harm in the whole population of Donegal and amongst specified population groups.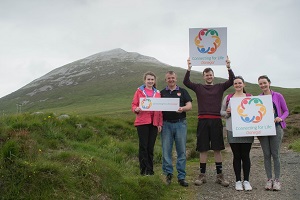 Find support
Are you, or someone you know, in crisis and need someone to talk to? You can find supportive information here. You can find services and supports in Donegal on YourMentalHealth.ie.
For confidential, non-judgemental support, the Samaritans are free to call, anytime day or night on 116 123 in the Republic of Ireland.
This page was last updated on 29th November 2018.