Connecting for Life - Kilkenny
The Minister of State with special responsibility for Mental Health Jim Daly TD launched Connecting for Life Kilkenny today - a new suicide prevention and self-harm plan for the county, which is the local implementation of Connecting for Life, Ireland's National Strategy to Reduce Suicide 2015-2020.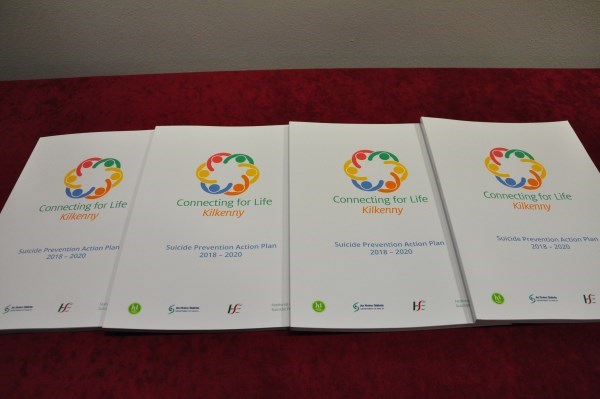 Facilitated by the HSE/South East Community Healthcare, Connecting for Life Kilkenny is the result of a comprehensive process of consultation and engagement. It involved the people of Kilkenny city and county areas, and those who provide services to them, developing a roadmap to address suicide and self-harm in the area from now until 2020. The Minister was welcomed to the event by the Cathaoirleach of Kilkenny County Council, Cllr. Eamon Aylward – who said the local authority was delighted to be associated with the assembly of the plan and would be very much involved in ensuring its implementation.  
Speaking at the Official Launch of Connecting for Life Kilkenny at The Parade Tower in Kilkenny Castle today, Minister Daly said:"Each part of the country has developed its own suicide prevention and self-harm plan, linked to the national Connecting for Life strategy. There has been a very collaborative process here in County Kilkenny and I would like to congratulate all those involved. I'm delighted to launch the Kilkenny plan, which reflects accountability and is responsive, evidence based and adaptive to change over its three year implementation period."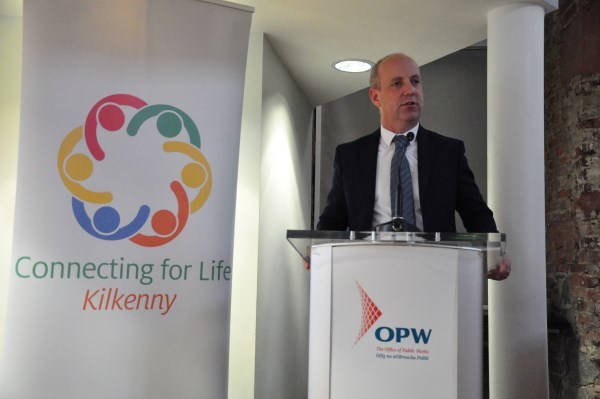 "Connecting for Life Kilkenny, as with its application in other counties, sets out a vision where fewer lives are lost through suicide and where communities and individuals are empowered to improve their mental health and wellbeing. It's important that we all work together now to ensure the plan is implemented in full."
Minister Daly was joined at today's Launch in Kilkenny by Tracy Nugent (Regional Resource Officer for Suicide Prevention, HSE/South East Community Healthcare), representatives from Kilkenny County Council, the Gardaí, and various voluntary agencies and community groups. The audience at the launch also included local public representatives in the Carlow/Kilkenny constituency, local mental health service users, people bereaved by suicide and those from communities in Co. Kilkenny who contributed through submissions to the formation of Connecting for Life Kilkenny.
Speaking at the launch, Mr. John Meehan (Assistant National Director and the Lead for the HSE National Office for Suicide Prevention) said:
"Local implementation and empowering communities is a core component of the Connecting for Life strategy. We need to connect with ourselves, our families, our communities and the services that are on offer. Connecting for Life Kilkenny has been led by the HSE but developed in partnership with a broad range of stakeholders in County Kilkenny. The result is a new plan, which details the actions that various organisations – including the HSE – will implement to realise the vision of County Kilkenny where fewer lives are lost through suicide."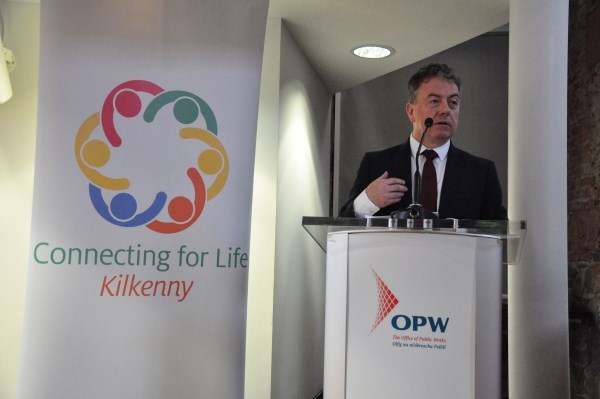 Addressing the audience, Ms. Liz Kinsella (Head of Service for Mental Health, South East Community Healthcare):"Suicide prevention is everyone's concern. Looking after our mental health is a cornerstone of improving the health of our people. It is as important as physical health. Throughout the health services, we have been putting structures in place to try to ensure that people get the right type of help and we look forward to this plan establishing better understanding of suicidal behaviour and supporting communities to prevent and respond to issues associated with suicidal behaviour."
Martin Rafter (CEO and Social Inclusion Programmes Manager with Kilkenny Leader Partnership) also spoke at the launch, saying:"The rate of suicide in the Co. Kilkenny is of concern. There is no part of our city and county that has not been affected. There is a sense of isolation for many. The submission process in County Kilkenny was able to address that, in addition to feedback from priority groups like young people, the LGBTI community, the Traveller community, mental health service users, those living in rural isolation and those affected by drug/alcohol use to name but a few. I am looking forward to the plan building and acting on what has been learned."
Trish Finegan (Chairperson of Lifelinkk, Kilkenny) told the launch: "For those of us in the community working on suicide prevention and promotion of mental health wellness, we are pleased to see the launch of this comprehensive action plan. We are looking forward to all the stakeholders working together on a strong, whole community response."
---
This page was last updated 29th November 2018.