St James's Hospital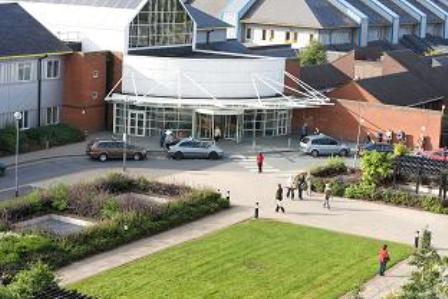 St. James's Hospital occupies a place at the forefront of the Irish health sector. It has a clearly established identity as a hospital serving the acute health needs of our local community, in addition to providing an extensive range of highly specialist services regionally and nationally. We are committed to improving the health outcomes and experiences of patients through the leadership of our staff and by working with our partners in healthcare.
Academic teaching hospital
St. James's Hospital is the largest academic teaching hospital in the Republic of Ireland, enjoying strong links with the University of Dublin (Trinity College). With 1,000 beds, more than 3,800 staff and an annual turnover of over €420m, by international standards St. James's is a substantial acute hospital service provider. However, its profile is not related purely to its scale, but to the visibility of its services and expertise on a national level. It occupies a prominent position in the public eye and is recognised as placing a high emphasis on innovation and excellence of delivery.
National cancer centre
St. James's Hospital is one of eight designated national cancer centres in the country. It is the largest in terms of activity, encompassing a number of national cancer care services. It is this unique position that has enhanced the collaborative commitment of St. James's Hospital and Trinity College Dublin to develop and evolve a comprehensive Cancer Institute dedicated to improving the care and outcomes of patients with cancer.
The campus at St. James's Hospital is an evolving healthcare campus offering a hub of services designed to meet patient's needs. The hospital has several national centres and institutions on its campus including TCD's Health Sciences Building which incorporates schools of Medicine, Dentistry, Occupational Therapy, Speech and Language, Physiotherapy, Nursing, Radiotherapy and Clinical Nutrition studies. St. Luke's Radiation Oncology Network and the Wellcome Trust/HRB Clinical Research Facility are also situated on the site.
Future plans
The hospital welcomes and looks forward to the opening of the National Children's Hospital in 2022, Phase 2 of the St Luke's Radiation Oncology Centre, and the transfer of the Coombe Women and Infants University Hospital facility to the campus.
"The vision for St. James's Hospital into the future is to be a leading healthcare organisation, nationally and internationally and to improve health outcomes through collaboration and innovation. To achieve this, in collaboration with the Dublin Midlands Hospital Group, Trinity College Dublin and our Community Healthcare Organisation, we will develop clear models of integrated services and care pathways: strengthen education, research and innovation to support clinical practice and to be an employer of choice in healthcare in Ireland."  

Mr Lorcan Birthistle, Chief Executive Officer, St. James's Hospital.