Acknowledge the work of your colleagues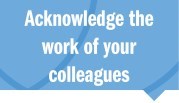 Treat everybody as equal, regardless of hierarchy or role within the organisation. 
Say thank you and acknowledge the efforts of team members and colleagues.
Be supportive of colleagues and tell them when they are doing a good job. Say thank you. Don't be judgemental, a 'blame culture' has no place
here. We are all here to make patient and service user experiences better, with humanity and professionalism.  

Openly acknowledge the work and efforts of colleagues. Saying thank you or congratulations for a job well done can have a very positive impact on people. Use opportunities like team meetings to share examples of good work, to mark a success or reaching a key milestone. 

Nobody sets out to do a bad job, everyone comes to work to try to do their best but mistakes can happen. It's important not to blame individuals or teams when things do go wrong but to try to learn where systems or processes could be changed or improved and to identify how we can work better together to improve the outcome next time. 
Ask your colleagues how you can help them
Ask how you can help or offer advice to try to guide the way. 
Share your knowledge and experience with others
Support a colleague who is under pressure. We trust each other to do the right thing, offer advice or a helping hand. Work together as a team
and trust each other to do the right thing. Ask yourself: 'Did I say or do something today to help a colleague?' 

Support can take many forms such as listening, offering a cup of tea or sharing your skills. Offering advice or sharing knowledge is another way we can offer help. Have you worked on a similar project? Do you have experience in a particular area that would help your colleague solve a problem? Share information, research or reports with colleagues where it can support them in their learning on a particular subject or project.  

Simple and thoughtful acts among colleagues demonstrate that we care and look out for each other. It helps to create better workplaces for all of us. 
Challenge toxic attitudes and behaviours
Address unacceptable behaviours where a person is not being treated with respect 
Do not accept that we can never change, improve or intervene
Don't be a bystander when you encounter unacceptable attitudes and behaviours. Acknowledge difficulties and bring balance to discussions
and situations.  

Everyone who uses and who works in the health service deserves to be treated with respect and dignity. Don't stand by and watch a colleague, patient or service user being treated disrespectfully. Don't be a bystander when you encounter unacceptable behaviours. Instead acknowledge difficulties and bring balance to discussions and situations.  

Relentless negativity, cynicism and criticism about a person, a team, a service or the HSE should not be accepted. We are all doing our best to build a better health service and while some services need improvement, and people may experience difficulties at work, it does not mean that everything about the health service is bad, wrong or dysfunctional.  Acknowledge difficulties but try to bring balance to discussions and act when needed. 
Read about the personal and the with patients/service users.