Recent Publications
PDF 1.05MB
|
Category: Social Inclusion, Asylum Seekers, Travellers
DUMP - Disposal of unused medicines
A free service to dispose of unused / out of date medicines safely. Organised by the HSE with the Community Pharmacists in Cork and Kerry
PDF 222KB
|
Category: Hospitals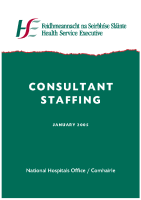 This report has been prepared by the National Hospitals Office of the Health Service Executive based on information collected and collated by Comhairle na nOspidéal. On 1st January, 2005, there were 1,947 approved permanent consultant posts and 4,170 approved nonconsultant hospital doctors (NCHD) in the public sector in Ireland. This is a net increase of 123 consultant posts (6.7%) on last year's figure and, therefore, represents the largest number of additional consultant posts ever approved in a single year. This continues the trend of significant increases in the numbers of consultant posts approved for Irish hospitals in recent years. For example, 507 additional posts have been approved in the past 5 years compared with 224 in the previous 5 years.
PDF 751KB
|
Category: Hospitals
Return to Practice - A Handbook for Nurses and Midwives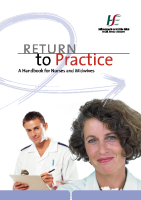 This handbook provides you with the relevant information to assist and guide you when considering returning to nursing or midwifery practice in the public health service.
PDF 707KB
|
Category: Hospitals
Report of the Committee to Review Neurosurgical Services in Ireland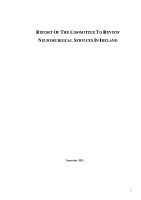 Following a request from the Department of Health and Children, Comhairle na nOspidéal established a committee to review neurosurgical services, focussing in particular on issues of capacity and geographic configuration, in the context of high quality and safe services. The following terms of reference were adopted; "Having due regard to geographic & demographic patterns, to examine the existing arrangements for the provision of neurosurgical services and consultant staffing nationally, and following consultation with the interests concerned, to make recommendations to Comhairle na nOspidéal on the future organisation and development of neurosurgical services in Ireland, in the context of current best practice, in order to facilitate high quality and safe services. The review should take into account the national / regional character of current neurosurgical services and focus on updating the recommendations outlined in the 1989 and 1991 Comhairle reports, taking into consideration recent advances in the neurosurgery/neuroscience group of specialties."
PDF 186KB
|
Category: Hospitals
100 Plus Rewarding Hospitals with high performing Emergency Departments
Improving the performance of Emergency Departments, particularly in relation to patient waiting times, is a priority for the HSE. The vast majority of hospitals have responded positively to the challenge and many are performing very well. To recognise and support these achievements the HSE is introducing '100 Plus', a national scheme to reward hospitals that are maintaining high performing Emergency Departments.
PDF 430KB
|
Category: Hospitals
PDF 90KB
|
Category: Hospitals
HSE Emergency Departments- Patient Profiles, Experiences and Perceptions
Results of the first ever HSE nationa survey of people who have attended an Emergency Department.
PDF 717KB
|
Category: Hospitals
PDF 1.37MB
|
Category: Children and Young People