About the HPV Vaccine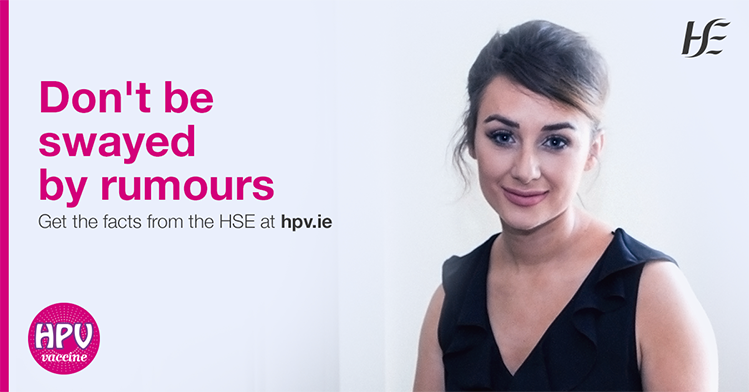 The human papillomavirus (HPV) vaccine protects girls from developing cervical cancer when they are adults.
The HSE has offered the HPV vaccine to all girls in first year in second level schools since 2010 to protect them from cervical cancer in adulthood. HPV vaccine is offered to this age group because the response to the vaccine is best at this age.
The vaccine is recommended by
the World Health Organization
the International Federation of Obstetricians and Gynaecologists
the National Immunisation Advisory Committee 
The HPV vaccine is available free of charge from the HSE for all girls in 1st year of second level school.
The vaccine is given through a school based programme, to ensure high vaccine uptake. However, in specific instances some girls will be invited to special HSE clinics for their vaccines.
The HSE will let you know the date the school immunisation team will attend your daughter's school to give the HPV vaccine. If a student misses the vaccine in school, the HSE will arrange for the student to be vaccinated at a HSE clinic.
Why is HPV Vaccine Important?
Each year in Ireland, over 6,500 women need hospital treatment for pre cancer of the cervix, 300 women get cervical cancer, and 90 women die from it. Cervical Cancer is caused by HPV.
HPV vaccine protects against 7 out of 10 cervical cancers.
We are offering the vaccine to girls in first year because the vaccine works best when given at this age. The vaccine will protect the girls before adulthood and the likely exposure to HPV.
To read more information about HPV vaccine and HPV cancer please visit the following page HPV and Cervical Cancer
Is it safe?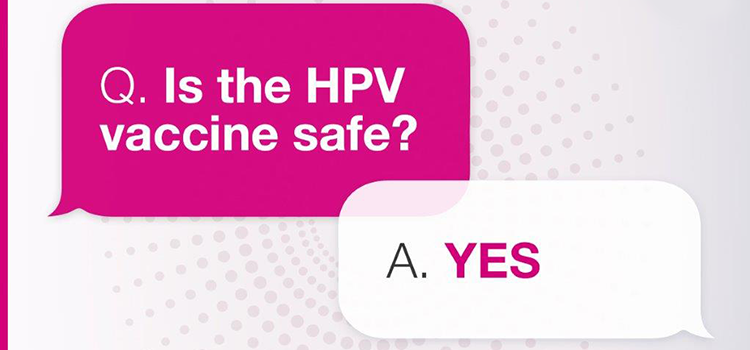 Yes, HPV vaccines have been shown to be very safe. For more than 12 years the safety of the HPV vaccine has been strictly monitored and frequently reviewed by many international bodies including:
the European Medicines Agency (EMA);
the Global Advisory Committee on Vaccine Safety of the World Health Organization;
the Centers for Disease Control and Prevention in the US.
These international bodies have continually reported that the vaccine is safe with no known long-term side effects.
The World Health Organization considers HPV vaccines to be extremely safe. (July 2017) 
The vaccine can cause some short term side effects. These may include:
pain, redness or swelling in the arm where the vaccine was given;
headache;
dizziness;
nausea;
and/or a mild fever.
These can be treated with paracetamol or ibuprofen.
Occasionally girls faint after getting an injection. The girls will be advised to sit down for 15 minutes after the vaccination. This helps prevent fainting.
Rarer side effects include:
wheezing (bronchospasm);
or an itchy rash or hives.
Like most vaccines, severe allergic reactions are extremely rare. If you are worried about any of these talk to your doctor or a member of the school team. The contact phone numbers are available in English and Irish.
The HSE is guided by the recommendations of the National Immunisation Advisory Committee (NIAC) and the World Health Organization (WHO).
All vaccines used by the HSE including Gardasil® are licensed by the Health Products Regulatory Authority (HPRA) and the European Medicines Agency (EMA). These agencies have strict procedures for the licensing and monitoring of all vaccines to ensure their safety and effectiveness. Over 244 million doses of Gardasil® have been distributed worldwide, either as part of national immunisation programmes or by private doctors. Gardasil® is currently used in over 25 European countries, the United States, Canada, Australia and New Zealand.
In Ireland 660,000 doses of Gardasil® have been administered and more than 240,000 girls have been fully vaccinated against HPV.
All national and international regulatory bodies have stated HPV vaccines are safe.
In January 2017 all 69 US National Cancer Institute NCI-designated Cancer Centers Endorsed HPV Vaccination
"As national leaders in cancer research and clinical care, we are compelled to collectively call upon parents and health care providers to increase vaccination rates so our nation's children don't grow up to become cancer patients. HPV vaccines, like all vaccines (used in the U.S.), have passed extensive safety testing before and after being approved. The vaccines have a safety profile similar to that of other vaccines approved for adolescents in the U.S. Internationally, the safety of HPV vaccines has been tested and approved by the World Health Organization's Global Advisory Committee on Vaccine Safety".
See information at: https://www.ucdmc.ucdavis.edu/news/images/pdf/HPVConsensusStatement_Jan2017.pdf
In 2018 all 70 US National Cancer Institute NCI-designated Cancer Centers endorsed goal of eliminating HPV related cancers by HPV vaccination and screening. 
High HPV vaccination rates combined with cervical cancer screening and treatment will result in the elimination of cervical cancer in the near future and elimination of other HPV-related cancers thereafter.
To read more information about Gardasil please visit the following pages:
Did you know?
In 2008, The Nobel Prize in Physiology/ Medicine was awarded to Harald zur Hausen "for his discovery of human papilloma (HPV)viruses causing cervical cancer"
This discovery made it possible to develop a vaccine against cervical cancer. https://www.nobelprize.org/nobel_prizes/laureates/index.php?id=823 
Further information
The vaccine used for the school programme in Ireland is called Gardasil. It is manufactured by MSD. The Patient Information Leaflet and the Summary of Product Characteristics are available here
More information is available on the following pages:
If you still have questions and would like to speak to the school team please contact them using the following phone numbers.
The contact phone numbers are available in English and Irish.
This page was updated on 14 August 2018