Research & Evaluation

Current Suicide Rate in Ireland
The CSO Vital Statistics Report for 2017 (released October 2019) includes confirmed figures for deaths by suicide that occurred in 2017. According to the Report, 383 (310 male, 73 female) suicide deaths occurred in 2017.
Data from the CSO is provided in different stages. This data is not easily comparable across different years - at any given time, data for different years is at different stages.
Numbers of deaths are provided firstly based on year of registration – "provisional"
They are revised later, by year of occurrence – "official"
Finally they are revised later again, to include "late registrations".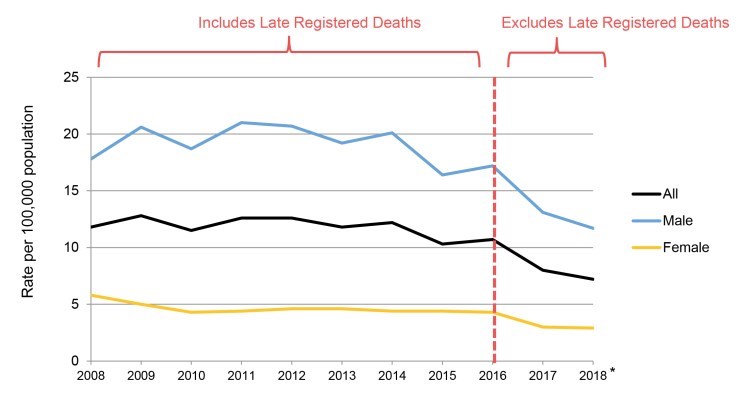 This graph represents suicide rates in Ireland from 2008 to 2018 (source: Central Statistics Office). * Data for 2018 is provisional. 
For more on suicide rates and comparisons, view our briefing documents, here.
Connecting for Life Outcomes
Connecting for Life sets out with two primary outcomes:
• Reduced suicide rate in the whole population and amongst specified priority groups.
• Reduced rate of presentations of self-harm in the whole population and amongst specified priority groups.
The World Health Organization target of a 10% reduction in the rates of suicide by 2020 is identified as the minimum objective. The outcomes framework also includes a series of Intermediate Outcomes against which progress relating to specific actions will be monitored.