Connecting for Life - Dublin South East, Dublin South and Wicklow
Connecting for Life
Ireland's national suicide prevention strategy, Connecting for Life (CfL), was launched in June 2015. In March 2017, the Connecting for Life Action Plan for Community Healthcare East (Dublin South East, Dublin South & Wicklow) 2015 – 2020 was launched. This was based on the same vision, goals, objectives and measurable outcomes as outlined in the National Strategy.
In December 2019 the Department of Health supported an extension of CfL for a further five years, with official approval by Cabinet granted in November 2020. A national implementation plan for 2020-2022 was published. To align with this plan, the new Implementation Plan for Dublin South East, Dublin South and Wicklow 2022-2024 has been updated to reflect the new national implementation plan and new local area needs.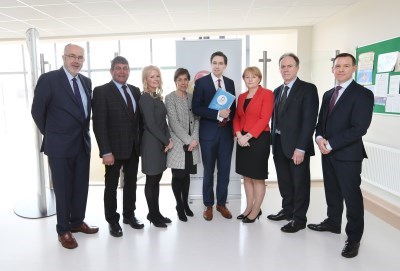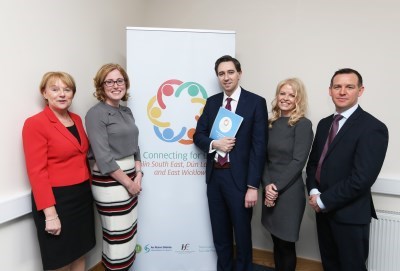 Over the past five years significant work across all of the seven goals has been achieved in Connecting for Life Dublin South East, Dublin South and Wicklow Community Healthcare, with particular successes in relation to:
Suicide prevention and training delivery 
Establishment of the Suicide Bereavement Liaison Service for the Community Healthcare area
Establishment of new services such as Jigsaw in Wicklow
New protocols were developed within the Mental Health Services to guide the services' response to suicide
New information resources were developed and distributed annually across the area
Specific projects in parts of the Community Healthcare area e.g. pilot Social Prescribing Programmes across the Community Healthcare area and the Woodlands for Health project was supported and extended to the Dun Laoghaire Rathdown area
Establishment of the Connecting for Life implementation structures
Mental Health Promotion activities and initiatives for priority groups and the general population across the Dublin South East, Dublin South and Wicklow Community Healthcare area
There were, however, also areas of challenge in relation to the implementation of the local plans:
Supporting active engagement and participation of all CfL stakeholders through the implementation structures
Supporting high risk/priority groups effectively
Managing the impact of the Covid 19 pandemic
The impact of the cyber-attack on the HSE
The development of the new plan was led by the two Resource Officers for Suicide Prevention (ROSPs) in the Community Healthcare area, supported by the Connecting for Life Implementation Groups, the Mental Health Management Team, the National Office for Suicide Prevention and national Mental Health Operations.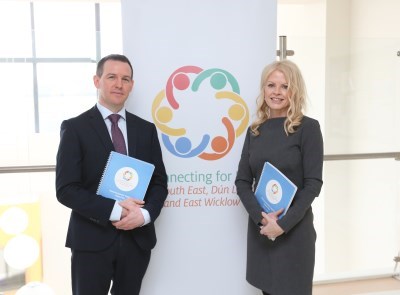 For more information on the local Connecting for Life action plan for Dublin South East, Dublin South and Wicklow, contact:
Adam Byrne, Resource Officer for Suicide Prevention, HSE Community Healthcare East: adam.byrne@hse.ie
Pauline O'Reilly, Resource Officer for Suicide Prevention, HSE Community Healthcare East: pauline.oreilly@hse.ie
---
Find services and supports in Dublin South East, Dublin South and Wicklow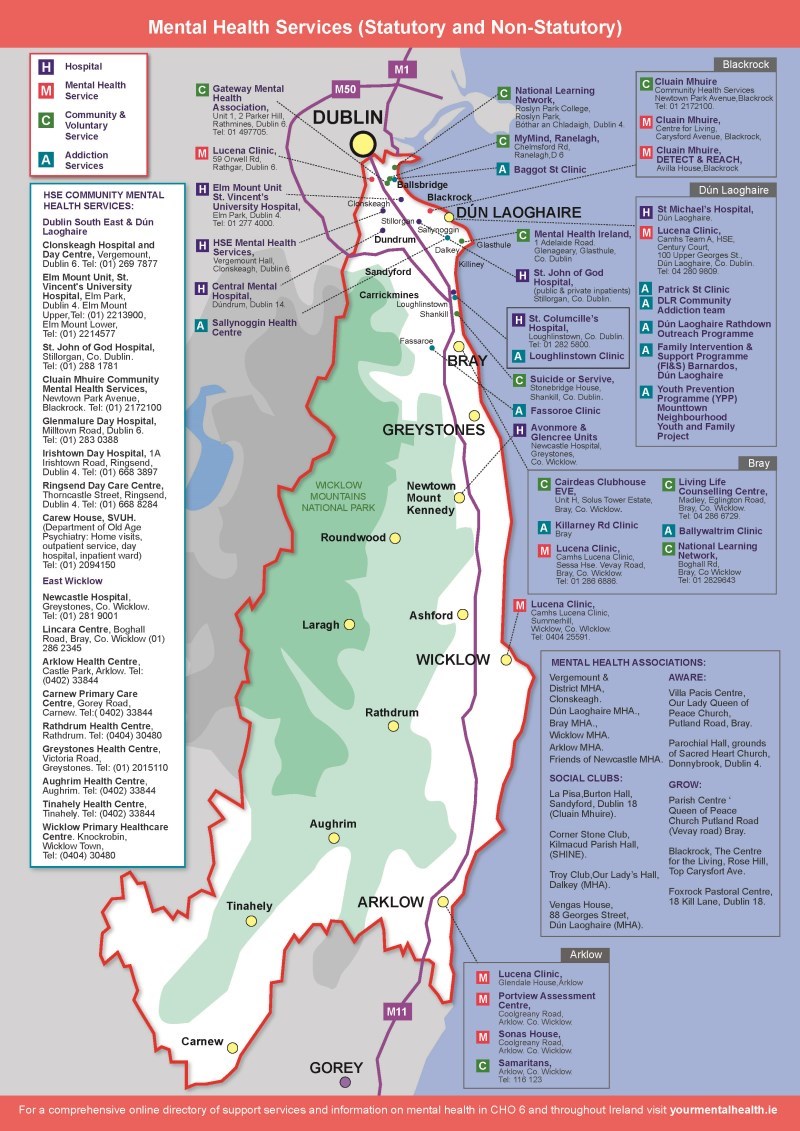 A map of Mental Health Services (Statutory and Non-statutory) in CHO6, Dublin South East, Dublin South and Wicklow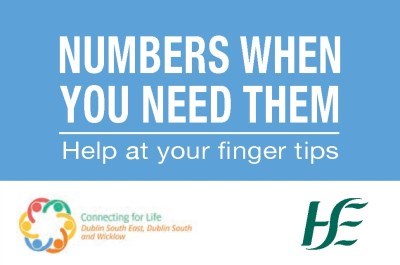 Numbers When You Need Them, Wallet Card for CHO6, Dublin South East, Dublin South and Wicklow
Your local GP
GP Out of Hours Services
Hospital Emergency Services
St Vincent's University Hospital - 01 2214504 (24/7)
St Michael's Hospital Dun Laoghaire - 01 2806901 (8am to 8pm)
St Columcille's Hospital Loughlinstown - 01 2115000 (8am to 6pm)
Children's Health Ireland at Crumlin - 01 4096100 (24/7)
Children's Health Ireland at Tallaght - 01 4142409 (24/7)
HSE Mental Health Services
If you are being supported by a mental health team, or have been in the past, contact the service for support in a crisis.
Hospital and emergency services
If you, or someone you know is at immediate risk of harm, go to or call the emergency department of your local general hospital. You can also contact emergency services on 112

 

or

 

999

 

anytime, day or night. 
24-hour support
 You can also call the HSE YourMentalHealth Information Line, anytime day or night, for information on mental health, and what other services and supports are available near you – Freephone 1800 111 888 or visit www.yourmentalhealth.ie.
---
Suicide prevention and awareness training
A wide range of free suicide prevention and awareness training programmes is available across HSE Community Healthcare East.
---
Information leaflets and booklets
A range of information booklets and leaflets on suicide, self-harm, suicide bereavement and mental health are available freely.
---
The Link Newsletter
Community Healthcare East are delighted to present our Connecting for Life newsletter, The Link. This newsletter is a snapshot of some of the amazing work that is carried out across our community in the area of suicide and self-harm prevention.
It is thanks to this commitment, passion and work of all the stakeholders involved that the vision of the national Connecting for Life strategy is achieved: an Ireland where fewer lives are lost through suicide, and where communities and individuals are empowered to improve their mental health and wellbeing.