News
Organ transplant recipient speaks to staff about his personal experience
David Crosby who received a double lung transplant called by to share his inspirational story, sign his photo and show his NYC marathon medal to staff #organdonationsaveslives
The National Patient Experience Survey 2018
The National Patient Experience Survey is the largest national survey of the Irish healthcare system and will run again during the month of May.
Almost 14,000 patients across 40 public hospitals participated in the inaugural survey in 2017, sharing their experiences of hospital care to help us identify what is working well in our hospitals and where improvements are needed.
Adults who spend 24 hours or more in a public hospital and are discharged during the month of May will be invited to participate in the survey. This year 16 and 17 year olds will also be asked to tell us about their experiences in hospital.
Over 28,000 patients will receive the survey by post approximately two weeks after their discharge. Participants will be asked a total of 61 questions on topics such as confidence and trust in hospital staff, hospital food, care and treatment on the ward and the provision of information and support when leaving hospital.
The results of the 2018 survey will enable us to pinpoint where positive progress has been made in our hospitals since 2017 and identify where further work is needed. The full results will be published online at www.patientexperience.ie in the autumn.
 The National Patient Experience Survey is a joint collaboration between the independent health regulator HIQA, the Health Service Executive (HSE) and the Department of Health. To find out more about the survey, take a look at our short animation.
You can also visit our website www.patientexperience.ie, follow us on Twitter @NPESurvey or like us on Facebook/NPESurvey
HSE Organ Donation and Transplant Ireland celebrates Organ Donation Awareness Week
311 organ transplants carried out in Ireland last year
11% increase in transplants - organ donation saves lives
HSE Organ Donation and Transplant Ireland (ODTI) is marking Organ Donor Awareness Week, which runs from 31st March until 7th April, with the publication of its 2017 annual report.  A record-breaking 311 organ transplants from 99 deceased organ donations were carried out  last year in Ireland, an increase of 11% on last year.
Kidney transplant from deceased donation has increased to 141 with 51 living donor kidney transplants undertaken at the National Renal Transplant Centre in Beaumont Hospital.
There were 62 liver transplants at the National Liver and Pancreas Transplant Service at St. Vincent's University Hospital (SVUH). The pancreas transplant service has relocated there, and 5 simultaneous pancreas and kidney transplants took place in 2017.
At the National Heart and Lung Transplant Service, Mater Misericordiae Hospital (MMUH) 16 heart transplants and 36 lung transplants took place, achieving another strong year and one of the highest rates for lung transplants in Europe.
Professor Jim Egan, Director, HSE Organ Donation and Transplant Ireland (ODTI) said, "Thanks to the extraordinary generosity and courage of 99 families donating a loved one's organs after death and 51 living donor kidney transplants, 311 people have received the gift of life through transplant surgery in 2017."
 "I wish to recognise the extraordinary work performed by the National Organ Procurement Service and the national transplant centres in conjunction with all the Intensive Care Units (ICU) across the country, all of whom work with the shared goal of saving lives.  I also congratulate both the Irish Kidney Association on their 40th Anniversary and the National Renal Transplant Service at Beaumont Hospital who recently completed their 5000th kidney transplant". 
"Most importantly, I wish to acknowledge that every transplant performed is as a result of the generosity of a deceased donor family at a time of great personal loss, or a living donor who save and enhance the lives of others."
Professor Jim Egan continued, "Organ Donor Awareness Week takes place from 31st March to  7th April and every year it creates huge public awareness which is an essential part of ensuring the success of our transplant programmes.  It is only because of the generosity of the Irish public that patients can receive the life-saving treatment of an organ transplant. Our message is simple; organ donation saves lives."
Free information fact files, which accompany organ donor cards, are obtainable from the Irish Kidney Association and are available nationwide from pharmacies, GP surgeries and Citizen Information Offices.  Organ Donor Cards can also be obtained by phoning the Irish Kidney Association on 01 6205306 or Free text the word DONOR to 50050. Visit website www.ika.ie/card     
Bantry Injury Unit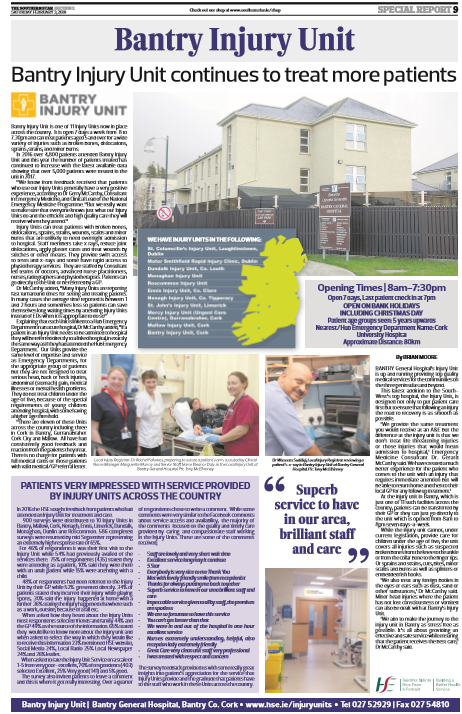 Mallow Injury Unit