Healthy Ireland in Community Healthcare Organisations
A key action in the HSE's Healthy Ireland plan was for each Community Healthcare Organisations (CHOs) to develop individual Healthy Ireland implementation plans tailored to meet the needs within their respective population and demographics. A national suite of targeted actions was shared with each CHO to help guide and shape the development of their respective plans. This approach was to ensure a clear line of sight from Government Strategy (of which there is one for all NPPP areas) to HSE implementation nationally, to local implementation via CHO's and Hospital Groups and to demonstrate understanding and a commitment to achieving the objectives of the cross Governmental Healthy Ireland Framework.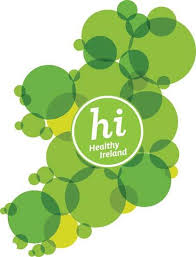 The suite of national actions covered a range of areas such as; Healthy Eating and Active Living, Tobacco, Mental Health and Wellbeing, Making Every Contact Count, Self Management Support, Alcohol, Healthy Childhood, Staff Health and Wellbeing, Positive Ageing and Sexual Health.
To date all nine CHOs have launched and published their Healthy Ireland Implementation Plans.
---
Healthy Ireland Implementation Plans across Community Healthcare Organisations
Area 1 - Donegal, Sligo/Leitrim/West Cavan, Cavan/Monaghan LHOs
Area 2 - Community Healthcare West (Galway, Roscommon, Mayo LHOs)
Area 3 - Mid West Community Healthcare (Clare, Limerick, North Tipperary / East Limerick LHOs
Area 4 - Cork Kerry Community Healthcare (Kerry, North Cork, North Lee, South Lee, West Cork LHOs)
Area 5 - South East Community Healthcare (South Tipperary, Carlow / Kilkenny, Waterford, Wexford LHOs)
Area 6 - Community Healthcare East (Wicklow, Dun Laoghaire, Dublin South East LHOs)
Area 7 - Community Healthcare Dublin South, Kildare & West Wicklow (Kildare / West Wicklow, Dublin West, Dublin South City, Dublin South West LHOs)
Area 8 - Midlands Louth Meath Healthcare (Laois / Offaly, Longford / Westmeath, Louth, Meath LHOs)
Area 9 - Dublin North City and County Healthcare (Dublin North Central, Dublin North West LHOs)