Healthy Ireland in Cork Kerry Community Healthcare
Priscilla Lynch, Head of Service Health & Wellbeing, Cork Kerry Community Healthcare
Covid-19 is presenting unprecedented challenges to both our staff and the public. 
Keeping ourselves well physically and mentally is very important at the moment and to help with that our Principal Psychology Manager, Daniel Flynn, has developed a series of videos for Cork Kerry Community Healthcare YouTube Channel on how to manage our mental wellbeing.
There are three cycles of videos:
5 ways over 5 days
1. Understanding our Emotions Why we have emotions and how we manage them even if we do not like them.
2. Understanding our states of mind How we balance emotion and reason and find a wiser mind.
3. Daily Mindfulness How to be in the moment; the "what" and "how" of everyday practice.
4. Relationship Mindfulness How to be mindful of others and protect your relationships.
5. Coping with Distress Some crisis survival tips when things are not how you want them to be.
5 more ways over 5 days.
1. Working with young children – featuring Ella Lovett, Principal Psychologist, Specialist in Child and Adolescent Health
2. Working with Teenagers – featuring Anthony Kiernan, Senior Psychologist, Child and Adolescent Health 
3. Working with Intellectual Disabilities – featuring Paul Duggan, Senior Psychologist, Mental Health and Intellectual Disability.
4. Working with Older People – featuring Judy Wall, Senior Psychologist, Mental Health Services for Older People
5. Advancing our Mindfulness Skills Practice – featuring Coleen Cormack, Senior Psychologist, Adult Mental Health Services.
Mindfulness Practices
1. Mindful Practice: Handwashing
2. Mindful Practice: Forest Walk
5. Mindful Practice: Butterfly Hug
Plus, for health care workers, there is a video, Calm with tips on how to manage emotional responses to unprecedented circumstances.
Downloadable Leaflets
Daniel and his team have also produced a series of downloadable 'How to' articles containing exercises and tips that can help with:
I would also like to thank the very many people who have volunteered to support our community response. Aware of the challenges that lie ahead for volunteers Daniel Flynn has also developed a guidance for Volunteers. Please download and share widely.
COVID-19 Guidance for Volunteers
Wellbeing at Work Resource
People spend up to a third of their day at work, therefore our work environment has a significant impact on our health. Cork Kerry Community Healthcare (CKCH) is committed to supporting staff health and wellbeing across the region. This booklet will highlight some of the ways you can care for your health and wellbeing and the supports available to you as an employee of CKCH. View and download Wellbeing at Work
 Slaintecare Integrated Fund Projects 2019-20
Health & Wellbeing Community Referral
Health & Wellbeing Community Referral is a means of enabling GPs and other front-line healthcare practitioners to refer patients to a link worker who can provide them with a face to face conversation during which they can learn about local opportunities to improve health & wellbeing and design their own personalised solutions,. People with social, emotional or practical needs are empowered to find practical solutions with the support of a link worker. The current phase will see additional sites based at Family Resource Centres in Adrigole, Ballincollig, Kenmare Kerry Head (Ballyheigue), Mallow & Midleton. Sites already exist in Listowel & Ballyphehane. This project is partnered by National Family Resource Centre Mental Health Project
WellComm Active
This initiative seeks to empower people to manage their own health through increase physical activity and improved diet. Clinician developed and peer delivered programmes will be delivered in a systematic and integrated manner across all eleven community healthcare netowrks in Cork. A coordinator based at Cork Sports Partnership will manage referrals from Acute Hospitals as well as frontline health professionals and self-referrals. The programs being delivered are Staying Fit for the Future, Healthy Food Made Easy, Project WeightLoss, Made to Move and Neuro-functional Training Development. This project is partnered by Cork Sports Partnership
Chronic Disease Prevention
Self Management Support
A directory of services for the management of chronic conditions has been developed for Cork and Kerry. Click on this link to view the directory. The directory intends to: • Highlight the ever increasing services and supports available for people with long term health conditions within the health service, the voluntary sector and also in the wider community where people live. • Increase awareness of the importance of self management supports for people living with long term health conditions. The fact that mental health and physical health are fundamentally linked requires a response to include emotional and mental wellbeing, social, and community supports. • Assist health and social care professionals who may be in a position to refer or signpost people to some of the services and supports listed. In this way the directory may also support healthcare professionals to implement Making Every Contact Count. 
The directory is now available online as a map to making it easy for you to identify services in your area. Click on this link to view it. The pins on the map are colour coded as follows: Blue - Diabetes, Green - Chronic Obstructive pulmonary Disease (COPD), Red - Heart Conditions, Purple - Stroke, Yellow - Generic

WellComm - Well Communities Connect
In 2019 the first Cork Kerry Community Healthcare health & wellbeing festival took place. The project was developed with support of community based organisations, sports organisation, local authority and primary care services. It took place at Terence MacSwiney Community College, Knocknaheeny, Cork in conjunction with Cork Sports Partnership Operation Transformation 5k walk. Watch the video to see participants availing of a host of activities including cookery demos, sexual health advice, blood pressure and blood glucose screenings.
Swim Distance Markers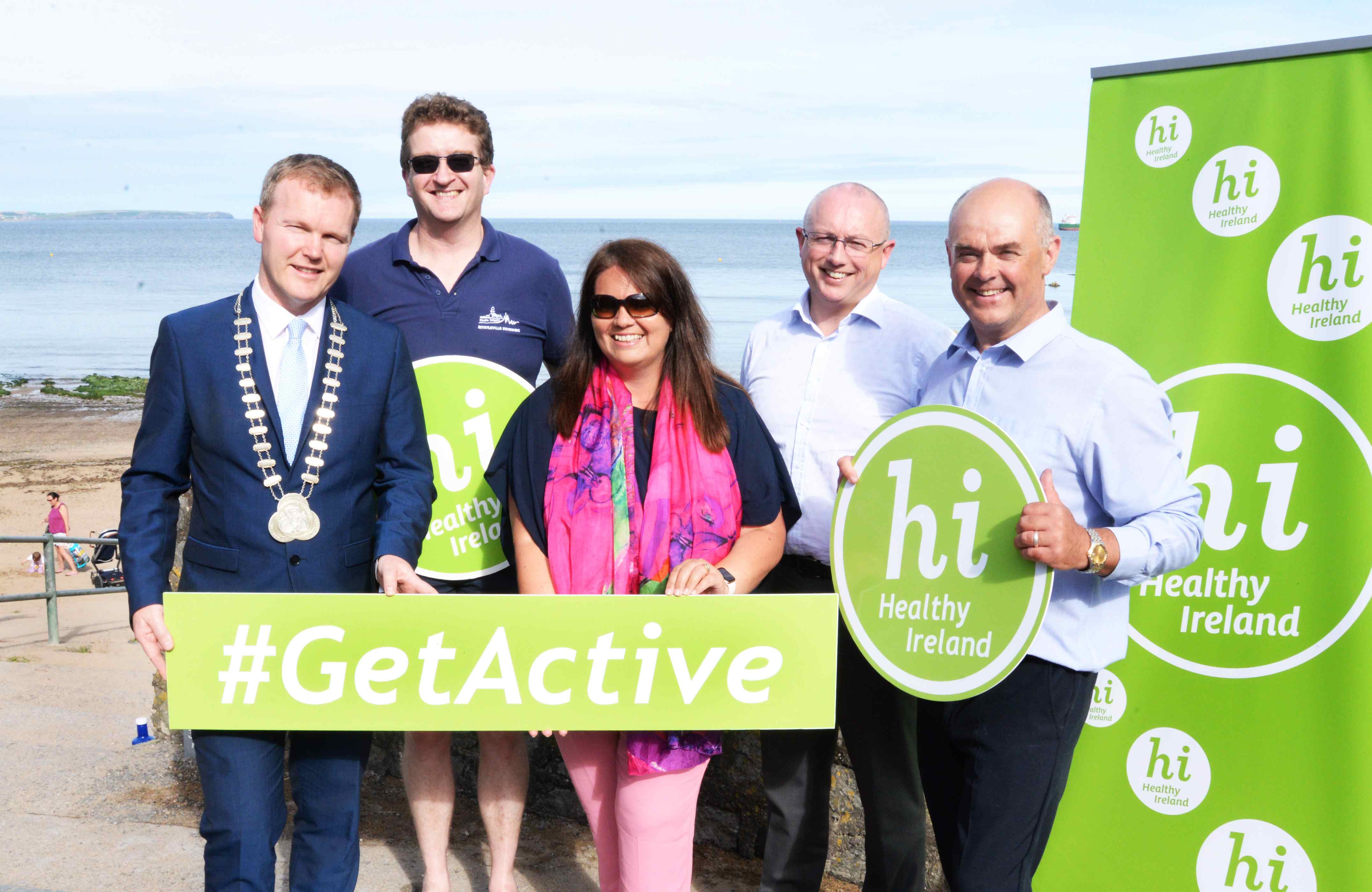 Councillor Seamus McGrath, Damian O'Neill, Priscilla Lynch, Ian Venner and Bernard Lynch at the launch of swim distance marker buoys at Myrtleville beach, Cork on 8 July 2019. The marker buoys are placed at intervals making a 1350 circuit. This partnership project comprised of Cork Kerry Community Healthcare, Cork County Council, Irish Water Safety, Port of Cork, Healthy Ireland and Myrtleville swimmers.
On Monday, 8th of July 2019, Cllr Seamus McGrath deputising for County Mayor Cllr Christopher O'Sullivan, launched a new project in Myrtleville. Swim distance marker buoys have been placed at intervals to create a 1350 metre circuit.
Speaking at the launch Cllr Seamus McGrath highlighted the importance of such initiatives which facilitate physical activity and wellbeing, "As a coastal county, we have an enormous asset available for everyone to enjoy. I am confident that the swim markers will encourage existing and new users to get into the water and swim, an activity that is good for mind and body."
Cllr McGrath thanked, Ian Venner, Bernard Lynch and Damian O'Neill who worked on behalf of the local swimming group, Myrtleville Swimmers, using their experience of swimming in the area to assist in the positioning of the buoys. He also acknowledged Nick Bourke and Paul O'Regan of Port of Cork, Mark Daly and Caroline Casey of Cork County Council and Priscilla Lynch, Head of Service Health & Wellbeing, Cork Kerry Community Healthcare who developed this initiative as a Healthy Ireland Partnership project.
Graham Kerr, Chairman of Cork Water Safety was also present at the launch.
Priscilla Lynch expressed delight in the effective partnership working that brought this project to completion in a very short period of time. She said 'Cork Kerry Community Healthcare Health & Wellbeing, connects partners, and collaborates with them to effect change, improving opportunities for safe and enjoyable physical activities. Healthy Ireland makes the healthy choice the easy choice, these swim marker buoys will encourage safer swimming among novice and experienced open water swimmers alike'.
Fiona Donovan, Project Lead for the Healthy Ireland: Healthy Cities and Counties project and who developed the idea for the swim distance markers when in her role as Galway Coordinator explained that "it is so important to support people to be active and healthy". The aim of this project is to increase the number of people who swim in the sea while simultaneously allowing them to do so safely.
Damian O'Neill of Myrtleville swimmers commented, "With hundreds of regular swimmers enjoying Myrtleville from dawn to dusk, these buoys are a fantastic addition to Cork Harbour. The certainty of distance and safety support they offer will encourage many more people to have the confidence to enjoy the health benefits of sea swimming."
Marie Watson, a distance Open Water Swimmer who swam 18km from Mizen Head to Fastnet Lighthouse in 2018 said, "I am thrilled with the addition of the buoys and already they have made a hugely positive impact for the swimmers, old and new! The buoys will help our training and encourage and support us all to improve and swim safe and stronger."
Port of Cork Harbourmaster has issued a Notice to Mariners restricting Leisure craft such as jet skis in the buoyed area of Myrtleville beach.
Cork County Council 's Water Safety Officer Caroline Casey, , encouraged beach users to be responsible at all times around water. "Know your ability and take note of all safety information in advance of entering the water. Further education around your safety in water is available on Water Safety Ireland website www.iws.ie or on the Council's Beachlifeguard Service Facebook page. 
Staff Health & Wellbeing 
Staff Campus Bike Scheme
Bikes have been located at the following campus,
Model Business Park,

St Marys Health Campus,

St Finbarrs Health Campus

Rathass Community Services

Mount Alvernia

Coolnagarrane, Skibbereen
Wellness Through the Lens
 Send your photos of Cork Kerry Community Healthcare staff Health & Wellbeing initiatives to aisling.oneill4@hse.ie. Each month a winner will be selected. 
Staff Health and Wellbeing Resource Pack
Staff Health & Wellbeing Day Doneraile Park 21 September 2019
Programme Information
Staff of Cork Kerry Community Healthcare and South/ South West Hospital Group, their families and friends were invited to the annual Staff Health & Wellbeing Day at the beautiful Doneraile Park. Doneraile Park is the stunning centrepiece of one of Ireland's most beautiful estates. Located on the banks of the Awbeg river in north Co. Cork, the house dates from the 1720s, The Park comprises approximately 166 hectares and is an outstanding example of an 18th century landscaped park in the 'Capability Brown' style. Mature groves of deciduous trees, several restored water features and a number of deer herds can be viewed along the many pathways within the Park. The pathways are generally accessible for people with special needs. Our event will be held in a specially sectioned area of the park for exclusive use of our staff. A FREE Tour of the Gardens and a FREE Tour of the recently restored Doneraile Court House will be available as part of our programme.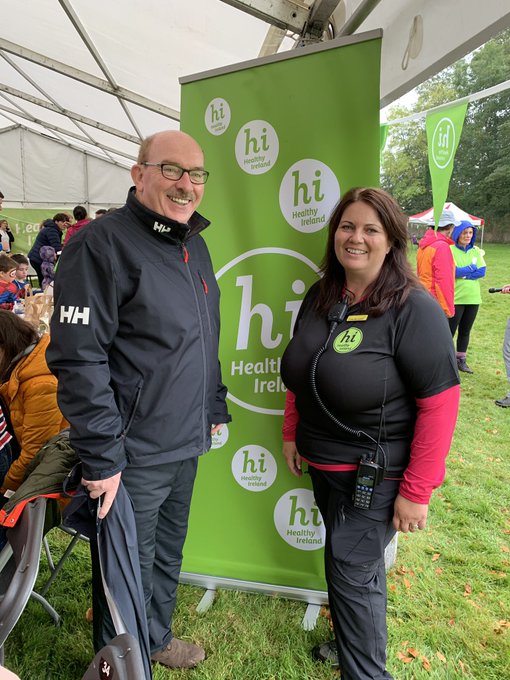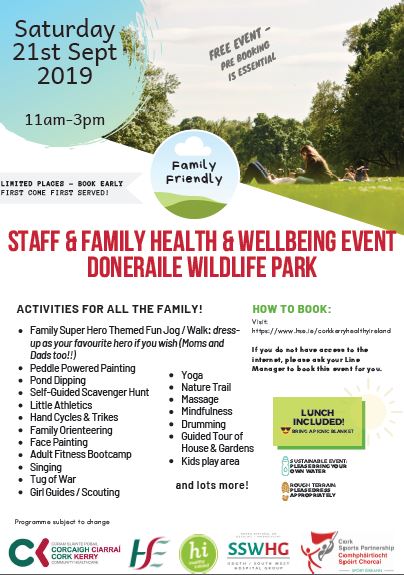 System Reform
Making Every Contact Count
Cork Kerry Community Healthcare COMPASS Healthy Ireland Implementation Plan Video