Connecting for Life - Midlands, Louth, Meath CHO

The HSE Midlands, Louth, Meath Community Healthcare Organisation (CHO), in partnership with community, voluntary and statutory organisations, is presently developing a Regional Suicide Prevention Action Plan for the counties of Laois, Offaly, Longford, Westmeath, Louth and Meath.  This development process commenced in April 2017 and will be completed in May 2018, with the public launch of the Action Plan.
A key part of the development of the Action Plan was the consultation process, completed during October 2017 which provided an opportunity for as many people as possible to have their say regarding what should be included.  Individual members of the public, service users, service providers and a variety of interest groups were consulted with.
The development of the Action Plan was therefore underpinned by a commitment to ensure that a broad range of voices were heard from across the six-county area.  Feedback was collected in September and October 2017 through surveys, postcards and focus groups. Participants were invited to give their views on what the challenges are in relation to suicide and self-harm in their communities, and what is needed to promote, maintain and protect mental health and wellbeing.
A total of 3,599 participants were engaged in the consultation process. Service providers were consulted by survey, members of the public were consulted through surveys and postcards, and members of priority groups were consulted through focus groups.
In both public and service provider consultations, more women took part than men. In terms of the age profile of participants, this spanned a broad range from people younger than 15 years to people over 75 years, with most people being aged between 35 and 54 years of age.
The consultation feedback highlighted the need for a broad-based suicide and self-harm prevention strategy involving multiple stakeholders that would support increased focus on both whole-community preventative initiatives to increase individual resilience and community capacity, as well as improving access to vital services for people from diverse backgrounds.
An analysis of the consultation feedback and the subsequent development and compilation of the Regional Action Plan is currently underway with an expected launch date in May 2018.
---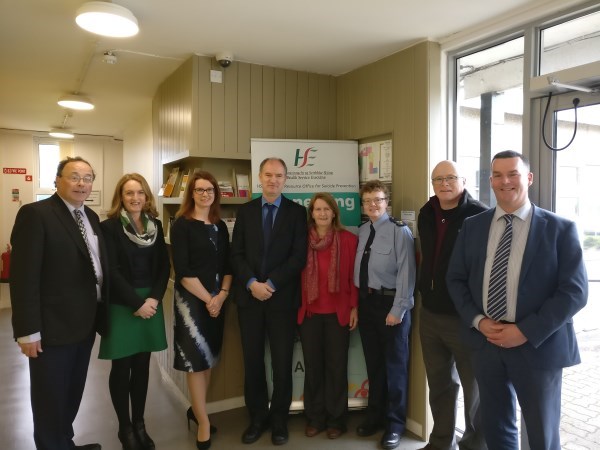 Pictured at the launch of the consultation (2nd October 2017) were, from left to right, Cllr. Noel French, Laura McPhilips (LCDC Longford County Council), Siobhan McArdle (Head of Mental Health Services, Midlands, Louth, Meath), Pat Bennett (Chief Officer of Community Healthcare Organisation, Midlands Louth Meath) , Finola Colgan (Mental Health Ireland), Sgt Alison McDaid, Jimmy O'Connell (School Clinical Therapist), Eddie Ward (Resource Officer for Suicide Prevention, Longford/Westmeath)
---
Find Support in Laois, Offaly, Longford, Westmeath, Louth & Meath
Your local GP
Find a local family doctor (GP) or health centre by visiting the HSE.ie online service finder. GPs are also listed under 'General Practitioners' in the Golden Pages.
GP Out of Hours Services
If it's late in the evening, night time or the weekend, you can contact a GP out of hours service.
MI Doc (Laois, Offaly, Longford & Westmeath 1850 302 702).
NEDoc (Louth, Meath 1850 777 911).
Hospital Emergency Services
Hospitals are listed on the HSE.ie online service finder. You can also contact the emergency services by calling 999 or 112 if you or someone else has harmed themselves or taken an overdose.
HSE Mental Health Services
If you have been (or are currently) supported by a mental health team, go to the Emergency Department or contact the service you are attending and ask for an appointment as soon as possible.
Listening Service
For confidential, non-judgemental support, the Samaritans are free to call, anytime day or night on 116 123 in the Republic of Ireland.
More Information
Visit yourmentalhealth.ie to search for supports in Laois, Offaly, Longford, Westmeath, Louth and Meath and information on what to do when someone tells you they are suicidal or at risk of self harm.
This page was last updated on 20th March 2018