Steps to Health Challenge 2021
Steps to Health Challenge 2021 May 31st  - July 4th
Registration has now closed.
Steps Challenge for 2021 will take place from May 31st until July 4th .  With the ongoing public health restrictions due to COVID-19 we will try our best to make the challenge fun and beneficial to all who participate. While some of our staff are never off their feet, many may be finding it difficult to reach their usual levels of physical activity, particularly those working from home. The Steps to Health Challenge runs for five weeks, supporting staff to move more and count your steps daily so that you can record your improvements over time.  Due to COVID-19 we all have to be mindful of social distancing. So we will continue with teams of between 2 and 10 participants, including your team co-ordinator. We encourage you to join up as part of a virtual team if you will be working from home during the challenge and suggest you walk and be active with just one colleague at a time if you are in a workplace.
The Challenge is a workplace initiative open to HSE, Tusla, Department of Health, Safefood and others working in related health service organisations. 
Follow us during the challenge on Twitter @hsesteps using #HSEstepschallenge.
To register a team please click here and complete the form.    We are really looking forward to taking part again this year.  In the meantime keep walking, stay healthy and well.
Check out what staff have to say about the Steps Challenge


Stay in Touch with the Steps to Health Project Team
Do you need help navigating social media? Take a look at the HSE social media guides HERE 
 Twitter: @hsesteps #hsestepschallenge | Email: stepstohealth@hse.ie
 What is the Steps to Health Challenge?
The steps challenge is a five week walking challenge that supports staff to walk more. The aim is to get you walking and counting your steps daily.
Steps can be accumulated in many ways. Take the stairs instead of the lift. Walk during your break and after work. 
Most of us walk between 3,000 to 5,000 steps a day. We challenge you to make up the extra steps so that you reach the goal of 10,000, which is the recommended number of steps for health benefits.
It might take longer for those who are inactive at present. You can break up the steps into ten minute walks at a time and still get the health benefits. 
Steps to Health is for everyone, regardless of your fitness or ability levels. Aim to increase your step count on a daily basis. Remember, every step counts!
Don't miss out!  Join the fun while looking after your mental and physical well being.
Challenge Resources
Each Team Co-Ordinator will receive a resource pack for their team.  Additionally, each item in this pack will available to download individually in pdf format (see below), along with other materials to support the Challenge.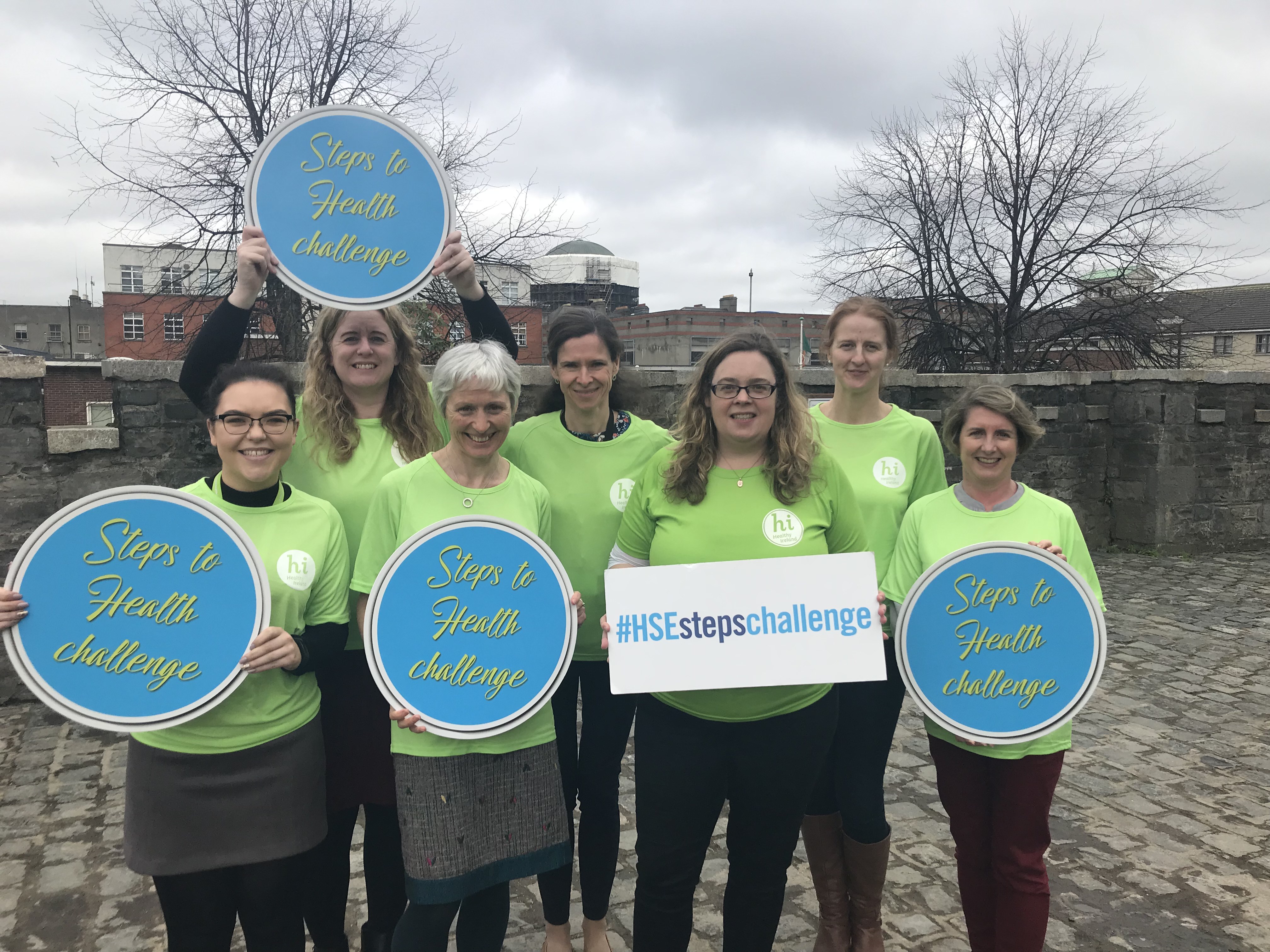 Pictured above are some of the members of the Steps to Health National Project Team from 2019.  (L to R): Meagan Hanley, Healthy Eating Active Living Programme, Muiriosa Ryan, Social Media & Digital Analytics Lead, Agatha Lawless, Project Manager, Healthy Eating & Active Living Programme, Edel McNamara, Senior Community Dietitian, Clodagh Armitage, Physical Activity Co-Ordinator, Caroline Murray, Health Promotion & Improvement, Norma Deasy, Campaign Manager,