Surgery
Background to the programme
The National Clinical Programmes represent a strategic initiative between the Health Service Executive's (HSE) Clinical Design and Innovation and the various post-graduate training bodies.  The programmes aim to design and implement change initiatives to improve and standardise the quality of care and access for all patients in a cost effective manner.  The Programmes are structured with broad cross functional input and with clinical leadership being provided by the training bodies to ensure that patients remains at the centre of any change recommendation. The National Clinical Programmes each share three core objectives:
To improve the quality of patient care delivered to all HSE patients
To improve access to appropriate services for patients
To Improve value /cost effectiveness to the patient and the healthcare system
The National Clinical Programme for Surgery (NCPS)
The aim of the National Clinical Programme for Surgery (NCPS) is to provide a framework for the delivery of safer, more timely, accessible, more cost effective and efficient care for all surgical patients.  NCPScommenced in 2010 and an overview of the programme is shown in the schematic below.
The NCPS works closely with the other National Clinical Programmes, notably the Programme in Anaesthesia but also with Acute , Emergency Medicine, and Critical Care. It also works with other National Clinical Programmes, when appropriate, as well as the Special Delivery Unit (SDU), patient advocacy groups and all relevant stakeholders across the health system.
The National Clinical Programme for Surgery reports directly into both the RCSI Committee for Surgical Affairs (CSA) and the Director of Clinical Design and Innovation of the HSE.  This CSA committee meets monthly and its membership includes the Programme Leads, Professor Frank Keane, Mr. Ken Mealy, as well as representation from the RCSI Dept. of Surgical Affairs (DOSA) and 16 Surgical Specialties.
Hospital Visits
The National Clinical Programme for Surgery (NCPS) have had ongoing site visits since the publication of the Model of Care for Elective Surgery in 2011. Site visits are an integral part of the NCPS strategic change management initiative and presents another opportunity for stakeholders involved in the delivery of surgical services across the Irish hospital system to share knowledge and exchange information.
Output from our on-going business intelligence exercise (surgical activity data analysis) is used as a performance improvement tool as well as well as an enabler to facilitate positive stakeholder engagement and interaction.
National Clinical Programme for Surgery at a Glance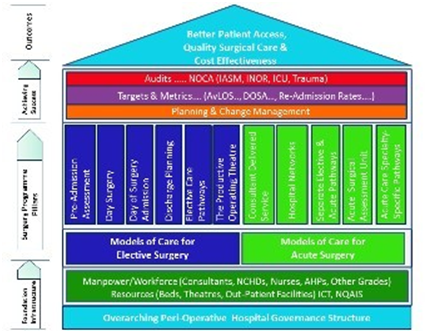 Each box shown in the "house" above describes the important elements of the programme. As with any house, the foundations start on the ground and the elements are built in an orderly and sequential manner. the same has to be done in the Surgery Programme for it to be a success.
Click here to download a pdf version of the above diagram