Rehabilitation Medicine
The Rehabilitation Medicine programme is a clinician-led initiative between the Royal College of Physicians of Ireland (RCPI), the Irish Association of Directors of Nursing and Midwifery (IADNAM), the Therapy Professions Committee (TPC), the Irish College of General Practitioners (ICGP) and Clinical Design and Innovation, HSE.
The objective of the National Clinical Programme for Rehabilitation Medicine (NCPRM) is to describe a framework whereby the ability and societal participation of those affected by complex, life-altering conditions can be maximized by early, timely and life-long intermittent access to specialist rehabilitation. The desired outcomes are improved quality of life, sustainable community independence and improved employability for those treated; and, in the early post-injury stage, reduced length of hospital stay and prevention of unnecessary re-admissions to acute care.
Effective and realistic goal setting, with patient and family engagement, across the continuum of recovery and service delivery, is the cornerstone of the rehabilitation process. Timely access to acute and post-acute specialist rehabilitation in facilities equipped to treat patients with complex rehabilitation needs must be realised to optimise the functional recovery of those who survive catastrophic injuries and illnesses. Expansion and standardisation of community based rehabilitation services is essential to ensure that the benefits of post-acute rehabilitation are sustained and reinforced as patients make progress in their new lives.
About the Rehabilitation Medicine Programme
The NCPRM model of care presents, in line with the National Policy and Strategy for the Provision of Neuro-Rehabilitation Services in Ireland 2011 – 2015 (DoHC 2011)[1], an outline for specialist rehabilitation services in Ireland[2]. A hub and spoke model is proposed which includes a tertiary centre linking managed clinical rehabilitation networks (MCRN) each one serving populations of about 1m. The network will connect acute and post-acute rehabilitation units, community specialist rehabilitation clinicians & community based services in a formal way to allow delivery of co-ordinated rehabilitative care for patients.[3]
Model of Care Key Recommendations:
Person-centred approach to service delivery
Equitable access to services
Three level model of service delivery across managed clinical rehabilitation networks (MCRN)
Development of appropriately resourced interdisciplinary inpatient, outpatient and community based specialist rehabilitation teams across Ireland supported by education and training
Development of systems to facilitate measurement and data collection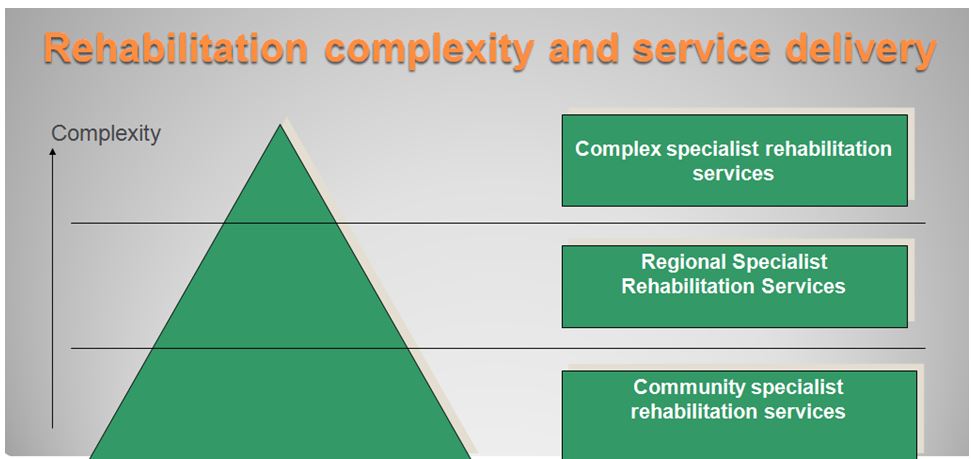 Objectives

 of the National Clinical Programme for Rehabilitation Medicine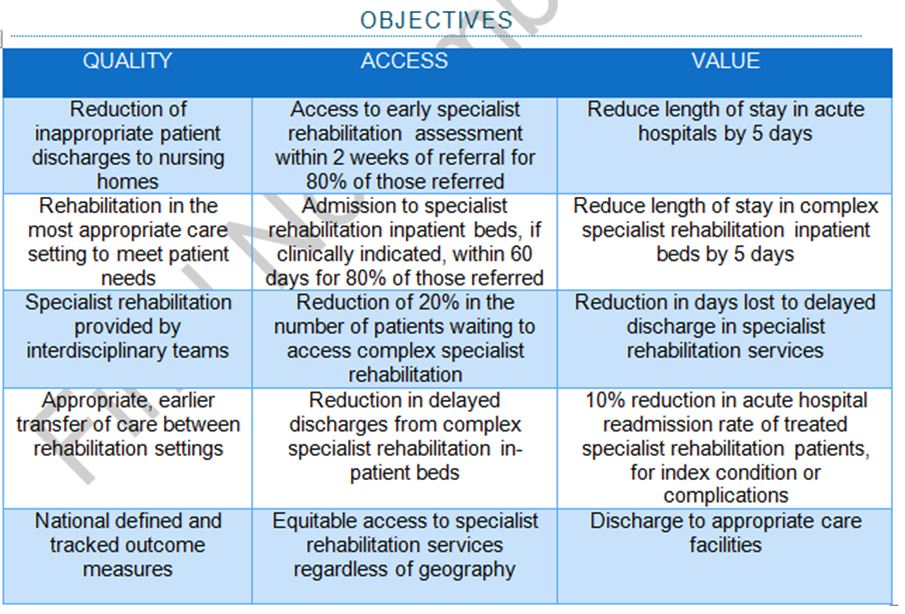 Key Solutions
1. Clinical Governance
Developing regional rehabilitation networks, contributing to expansion of local rehabilitation teams (hospital and community) and establishing effective evidence based protocols, pathways and care bundles
2. Acute Hospital Care
Ensuring rapid access to specialist rehabilitation in all hospitals admitting patients after major trauma and neurological injury
3. Complex Specialist Rehabilitation
Ensuring access to a national centre of excellence for patients with complex rehabilitation needs
4. Post-acute Rehabilitation
Developing at least four regional specialist inpatient and outpatient rehabilitation units
5. Community Rehabilitation
Developing and reconfiguring community based rehabilitation services to shorten length of stay, prevent unnecessary re-admissions and achieve successful, sustained discharge to home
6. Primary Care
Contributing to education and support for primary care practitioners through the development of online resources on the management of disabling neurological conditions and limb absence.
7. Trauma Database
Contributing to the TARN database as RCPI Representative on the National Emergency Medicine Audit Governance Committee.
[1] Referred to as the 2011 Neurorehabilitation Strategy throughout this Model of Care