Programme News: Paediatrics and Neonatology
Launch of the Competencies for Health and Social Care Professionals Working in Paediatric Healthcare Services Report
The ICP for Children Health and Social Care Professional (HSCP) Expert Group have launched Competencies for Health and Social Care Professionals Working in Paediatric Healthcare Services, which is part of a framework of competencies to support integrated workforce planning and staff development. It should be used in conjunction with the relevant code of professional practice and ethics for each health and social care profession.
Paediatric HSCP expert group members identified six core areas of competence, together with associated indicators and measurable activities, following extensive discussion and engagement with colleagues in order to reach consensus. These competencies will be common to all paediatric HSCPs and should be central to all activities undertaken in the delivery of healthcare services for infants, children and young persons.
Read the Health and Social Care Professionals Working in Paediatric Healthcare Services Report
Launch of Neonatal Therapeutic Hypothermia Report
National Clinical Programme for Paediatrics and Neonatology & National Perinatal Epidemiology Centre launches 'Neonatal Therapeutic Hypothermia in Ireland, Annual Report 2016-2017'. (Insert hyperlink to report from the report title)
Background
This report is a collaborative initiative between the National Clinical Programme for Paediatrics and Neonatology (NCPPN) and the National Perinatal Epidemiology Centre (NPEC) with support from the National Women and Infants Health Programme (NWIHP) and the Clinical Strategy and Programme Division of the Health Services Executive.
Before or during birth, a small number of infants experience reduced oxygen or blood supply. After birth, some of these infants will show abnormal neurological behaviour, diagnosed as hypoxic-ischaemic encephalopathy (HIE).
Therapeutic Hypothermia (TH) is now the standard treatment for term infants (babies born after 36 completed weeks of gestation) with moderate to severe HIE. It is a therapy during which the infant is cooled within six hours of birth to a targeted core body temperature of between 33°C to 34°C for a duration of 72 hours. A normal core body temperature for infants is about 36.4°C, but this can vary slightly. Following the 72 hour period of cooling, the infant is rewarmed to normal body temperature over a 6-12 hour period. TH is regarded as the greatest single advance in Neonatology over the last 25 years as research has demonstrated it reduces the rate of death, severe disability and lifelong cerebral palsy reduction for these infants.
In Ireland, TH is administered in four tertiary maternity hospitals: National Maternity Hospital, Rotunda Hospital, Coombe Women and Infants University Hospital and Cork University Maternity Hospital). All infants born in other hospitals requiring this treatment are transferred to one of these four tertiary hospitals.
Measurement of the outcome of care is central to the development of safe and high quality healthcare services. The Neonatal Therapeutic Hypothermia in Ireland Annual Report 2016-2017 is the first report that incorporates comprehensive data on the maternal, infant and clinical characteristics associated with TH that occurred in 2016 and 2017. This report illustrates the logistical challenges faced with the delivery of a high acuity, uncommon treatment that has to be delivered on short notice.
Key findings
Sixty-three infants underwent TH in 2016 and 77 in 2017; a total of 140 in the two-year period. This suggests that one in 900 infants born in Ireland during 2016/2017 required TH. The survival rate for the TH cohort was 88%, as 17 of the 140 infants died. 
The data on maternal age, ethnicity and BMI broadly reflected that of the population of mothers who gave birth in Ireland in 2016. 
Of the range of maternal characteristics examined, parity showed some evidence of being associated with increased risk of the infant requiring TH. Almost 40% of all infants born in Ireland are born to nulliparous women, whereas this was the case for 60% of the TH cohort. 
One in three women whose infant required TH cohort had their labour induced (34%), compared to 29% of all deliveries in Ireland for 2016. 
At 47%, Caesarean Section was the most common mode of delivery for all 140 infants. Of the women who had a caesarean section:
       47% of mothers had a pre-labour Caesarean Section
       53% of mothers had a Caesarean Section after the onset of labour.
Less than 2% of mothers had an elective caesarean section. 
The Apgar scoring system is used to assess an infant's health at birth to determine the need for prompt intervention. At 1 minute of life, 79% of the TH infants had a low Apgar score indicating they required intervention
      95% of infants required resuscitation
      59% of all the TH infants required intubation at birth.  
TH is administered in four centres In Ireland. Forty per cent of the infants who required TH in 2016/2017 were born in a local or regional hospital and were subsequently transferred to a tertiary centre. Of these, 89% were transferred by the National Neonatal Transport Programme and the remainder transferred by the HSE 
Based on available examinations, placental conditions were present for the majority of the infants (83%) indicating evidence of fetal compromise before delivery. 
While these findings support the existing evidence that hypoxia requiring TH is caused by antepartum and intrapartum complications and events, disentangling the role of these complications and events requires more extensive data and analysis, in particular relating to labour 
This national report highlights efforts made in Ireland to investigate key adverse outcomes for mothers and babies. Some key recommendations from this report:
Ongoing national review of therapeutic hypothermia infant cases is required.
The development of a national Electronic-Register which will contribute to a body of evidence which will inform standardised clinical practice, public health interventions, service planning and counselling of prospective parents.
The development and implementation of a standardised review tool for perinatal events, which incorporates a comprehensive review of adverse outcomes using a multidisciplinary team approach will enable the identification of potential risk factors for pregnant women, is advocated.
All infants who are treated with therapeutic hypothermia should have a formal neurodevelopmental assessment at 2 years of age.
 
A lay summary and the full report can be found in the Programme Documents and Resources section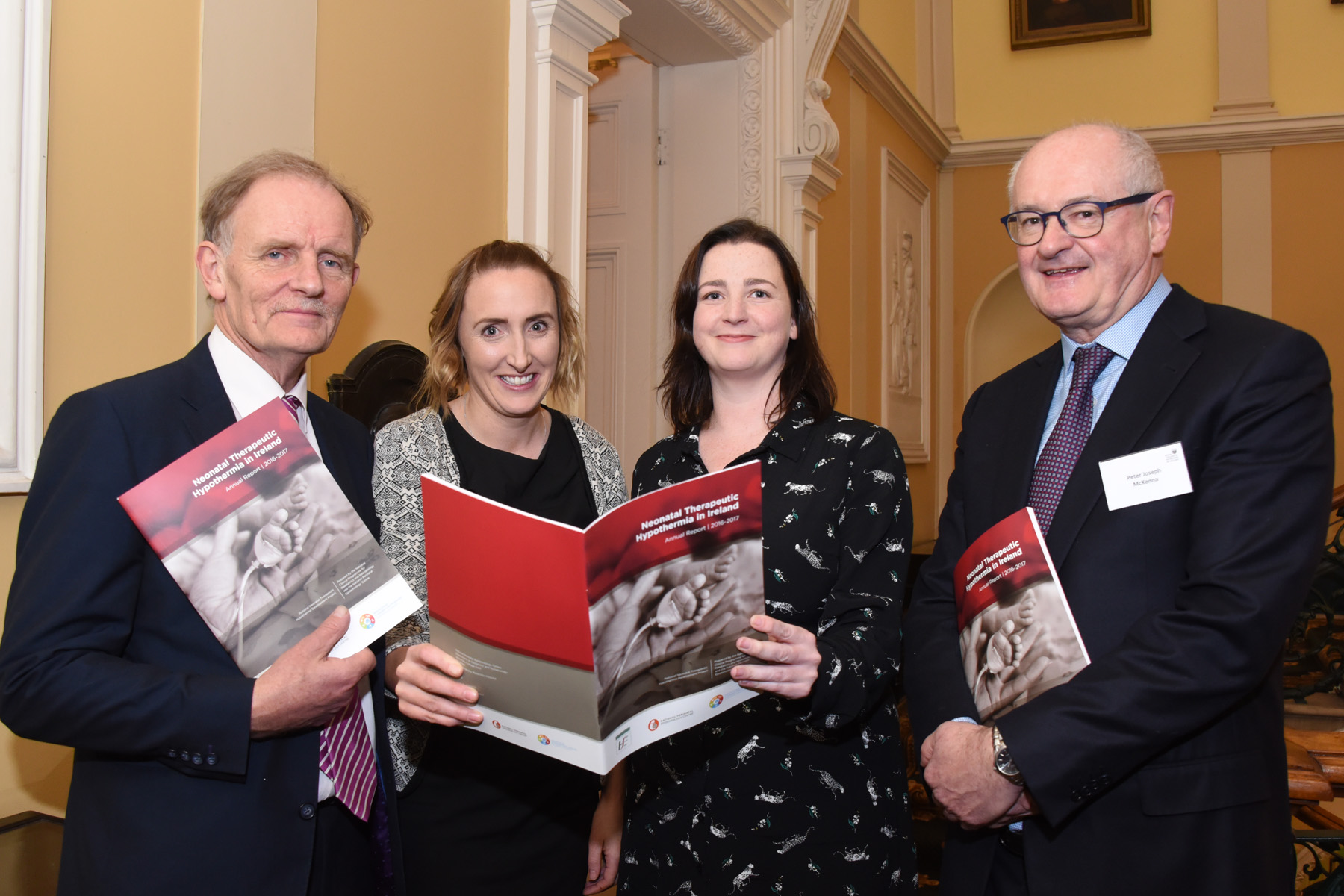 Pictured at the launch from left are Prof John Murphy, Ms Julie
McGinley, Dr Sarah Meaney and Prof Peter McKenna.