ADHD in Adults - National Clinical Programme
This National Clinical Programme (NCP) applies to adults with Attention Deficit Hyperactivity Disorder (ADHD). ADHD is a common neuro-developmental disorder with 3 core symptoms (inattention, hyperactivity and impulsivity). The Programme is delivered as part of the HSE's mental health service provision and across government departments to ensure a holistic, integrated, person-centred response to adults with ADHD. It includes both assessment and treatment of the disorder and works collaboratively with voluntary agencies.  Access to appropriate intervention and treatment has been shown to significantly improve outcomes for this patient population. ADHD is a common childhood disorder with high rates of continuation of ADHD symptoms into adulthood. Prior to the development of the National Clinical Programme there were no specific ADHD public services available for Adults in Ireland.
Access to Adult ADHD services
Adult ADHD clinics provide public services to patients over 18 years old and who are residing within a defined catchment area. The service is a specialist service providing assessment and treatment of ADHD for adults with moderate to severe ADHD symptoms and functional impairment in two or more aspects of their life. These include problems with:
Family relationships
Social relationships
Academic or work difficulties
Managing money
as some examples.
The Adult ADHD Teams accept referrals from both Adult and Child Community Mental Health Teams. There is a modified pathway for young adults transitioning from Child and Adult Mental Health Services (CAMHS) where each young person should have a formal re-evaluation of his/her ADHD status carried out by CAMHS one year prior to their 18th birthday to ensure the diagnostic criteria for ADHD are met and/or an ongoing need for ADHD specific medication is established, more information is also on p.37 of the Model of Care.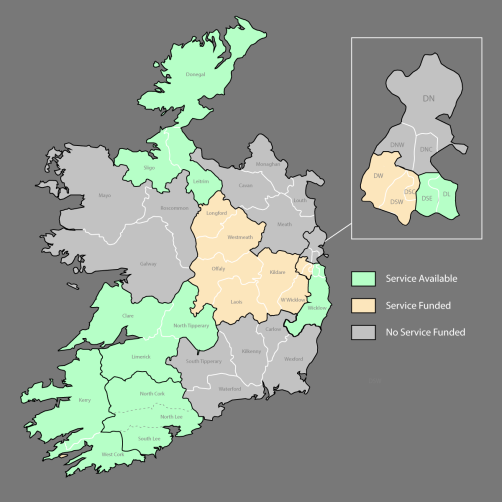 Up until 2022 the Department of Health (DOH) provided funding to the National Clinical Programme for 3 of the 11 Adult ADHD NCP sites, these are now operational. The following areas now have Adult ADHD services available:  
CHO1: Sligo / Leitrim / Donegal
CHO3: Limerick / Clare / North Tipperary
CHO6: Dun Laoghaire, Dublin South East and Wicklow (North, South and East)
CHO4: Cork - covering North Lee, South Lee and North Cork
CHO4: Kerry - covering Kerry and West Cork
The 2022 Estimates process provided funding for an addtional 4 Adult ADHD teams.  These new teams are in various stages of development with some operational and covers:
CHO4 – Cork - covering North Lee, South Lee and North Cork (now operational)
CHO4 – Kerry – covering Kerry and West Cork (now operational)
CHO7 - Dublin South City, Dublin South West and Dublin West (operational end Q3 2023)
CHO8 - Midland counties- Laois, Offaly, Longford and Westmeath as well as Kildare West Wicklow (consultant post re-advertised)
Access to the service is outlined in the national Model of Care which includes the clinical pathway. If a GP refers a patient they are first referred to their local Adult Mental Health Team (AMHT) where they are assessed for co-morbid mental illnesses and screened using the ASRS and WURS ADHD specific scales and where screening positive on both and there is no co-morbid mental illness or this has been treated, patients are referred by the Adult Mental Health Team on to the ADHD Adult Clinic. 
Who is eligible to access this specialist service? Patients over 18 years old who live in the catchment areas above and towards the end of 2023 new services should be in place for CHOs 7 and 8.
How do I make a referral? Patients can speak to their GPs about their symptoms and if the GP thinks it is appropriate they can make a referral to the patient's local Community Adult Mental Health Team (CAMHT), this is based on the patient's home address. The CAMHT will carry out an initial screening and if the patient screens positive for possible ADHD they will be referred on to the Adult ADHD service as appropriate. The referral going through the Community Adult Mental Health Team is an important part of the process as there is a higher association of co-morbidities with other mental health problems such as depression and anxiety with adults who have ADHD.
The Adult ADHD App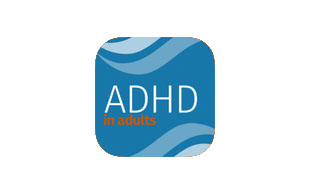 The ADHD in Adults National Clinical Programme in partnership with ADHD Ireland and the UCD School of Psychology developed the Adult ADHD App. The App provides specific information for adults who have ADHD or think they may have ADHD. It is available to download from apple and google app stores and through https://adult.adhdirl.ie/download. The app provides self-care and signposting information regarding adult ADHD. It is important to note that is not a treatment programme or a replacement for medical advice and care. The Adult ADHD App poster may also be useful to those working in a healthcare setting.
The app is designed to help adults:
who think they may have ADHD
diagnosed with ADHD and seeking further information
diagnosed with ADHD as children and requiring on-going treatment as adults
attending mental health services in whom ADHD has not been recognised
and family and friends of adults with ADHD.
Adults with ADHD may experience emotional dysregulation and social difficulties together with educational and vocational underachievement compared to their peers and also have high rates of co-morbid mental health disorders.
One of the first steps in developing a service is to design a Model of Care. The ADHD in Adults NCP Model of Care was launched on the 14th of January 2021 by Minister Mary Butler. All Clinical Programmes are dependent on new additional funding to be implemented fully and Programmes can take several years to be fully implemented. GPs and those working in healthcare settings may find the Clinical Pathway in the Model of Care useful to understand referral processes where services are now in place.  When fully implemented, 11 Adult ADHD Clinics will be established to provide assessment and multi-modal treatment in Community Healthcare Organisations in line with the national Model of Care.  Each clinic consists of a Consultant Psychiatrist, Senior Psychologist, Senior Occupational Therapist, Clinical Nurse Specialist Mental Health and an Administrator.
UMAAP (Understanding and Managing Adult ADHD Programme)
This Programme was developed by the UCD School of Psychology in conjunction with ADHD Ireland and the National Clinical Programme. The Programme is delivered in a 6 week workshop format facilitated by a Senior Psychologist working with ADHD Ireland. Its aim is to provide education on ADHD for adults with the condition together with the tools to manage symptoms and problems such as emotional dysregulation, poor organisational skills, insomnia etc. You can find out more about the Programme and how to enlist through the ADHD Ireland website, https://adhdireland.ie/.
Adult ADHD - Staff Training
All staff working in Adult ADHD Clinics will have attended specific training in Adult ADHD with UKAAN the UK Adult ADHD Network. They provide training to clinicians in three specific areas: 
Diagnosis and Assessment 
Pharmacological Interventions 
Psychosocial Interventions 
The NCP has also provided additional training for final year specialist registrars in psychiatry and other multidisciplinary staff through the UK Adult ADHD Network (UKAAN) and it plans to repeat this training at specific intervals and in particular for all new staff joining Adult ADHD teams. Clinicians, if interested, can also apply to UKAAN to attending upcoming courses. 
The ADHD Journey and importance of early diagnosis
The National Clinical Lead for ADHD in Adults explains the Programme and the importance of getting an early diagnosis. To illustrate this, an actor from UCC Drama Society recounts the story of a young person with ADHD, their journey in seeking a diagnosis and access to specialist services. This highlights how much their life improved following pharmacological and non-pharmacological interventions as they learned to manage their ADHD.
Scope of the National Clinical Programme
The terms of reference of this Working Group were to design and develop a Model of Care for the strategic and operational delivery of services for adults with ADHD taking into consideration:
The interests of adults aged 18 years and over
Relevant national and international policy documents and reports
Relevant national and international research, evidence-based practice and standards.
Goals 2023
Support the development of Adult ADHD services in Community Healthcare Organisations (CHOs) 4, 7 and 8.
Work closely with CHOs in the provision of appropriate accommodation for new adult ADHD teams
Continue the provision of specific ADHD training to new ADHD teams and other relevant frontline mental health staff in conjunction with the UK Adult ADHD Network (UKAAN)
Update the core clinical outcome dataset based on ADHD site feedback at implementation
Enhance the National Oversight Implementation Group for ADHD in Adults NCP
Continue collaborative work with ADHD Ireland and the UCD School of Psychology in UCD
Continue to update the Adult ADHD App to support adults, families and friends with information on Adult ADHD as well as signposting information to services for patients and families.
Additional Supports
Other support services available through our voluntary partners in ADHD Ireland, see: https://adhdireland.ie/for-adults/. They provide an Adult Support group online to discuss concerns, issues and your experiences of ADHD in your relationships, education or work life. It is hosted online fortnightly and these peer to peer sessions enable those experiencing the daily challenges of living with ADHD.
Other useful information is also available from: 
Other resources that patients might find helpful is information on the Drugs Payment Scheme and how to access a Medical Card if medication is required and the patient qualifies for these schemes.