Programme News: Renal
National Kidney Disease Clinical patient Management System (KDCPMS)
The Kidney Disease Clinical Patient Management System (KDCPMS) has been deployed in all Hospital Groups. It allows monitoring of activity metrics, outcomes and for a National Renal Registry, with a National Renal Health Information Specialist, under the Governance of the Renal Health Intelligence Programme Board. The system will provide a framework for performance monitoring in renal care provision, comparative clinical audit, enhanced delivery and quality of care, strategic planning and effective resource utilization.
International World Kidney Day will take place on March 14th 2019 – Kidney Health for Everyone Everywhere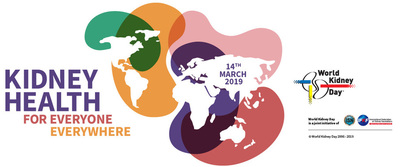 Early detection and treatment save lives
400,000 people approximately are at risk of kidney disease in Ireland. In 2018 there were approximately 292,000 haemodialysis treatments performed nationally in 24 Haemodialysis units with over 250 people on Home Therapy treatments also.
 167 people successfully received a kidney transplant in 2018.
 A variety of information is available to everyone, patients, citizens and health professionals at: http://www.worldkidneyday.org/