ICP for Older Persons
The Integrated Care Programme for Older People (ICPOP) and the National Clinical Programme for Older People (NCPOP) are leading out on the development of cohesive primary and secondary care services for older people especially those with more complex needs. The current focus is on the development of 12 pioneer sites nationally (6 in 2016 and 6 in 2017), which builds on work and initiatives currently being developed locally in Ireland, and on the work to date on Acute and Mental Health pathways developed by the NCPOP. These sites are working to a 10-Step Framework that fundamentally adopts a population based approach with new ways of working, at the core of which is a case management approach to integrated care. The ICPOP proposes to implement, test and monitor integrated service developments for older people in pio­neer sites and to evaluate this implementation so that lessons learned may be ex­tended nationally.
The ICPOP, in conjunction with the Social Care Division of the HSE, developed a 7 minute video clip illustrating how older persons care is currently managed and how this might look in the future when care is integrated across primary care, hospital and community, from a patient perspective (Nora).
2016 marked the programme initiation and the coming together of the ICPOP and the NCPOP to form the National Working group for Older People. This report summarises the key aspects of the programme which were delivered in 2016 and on the planned deliverables for 2017.
Aims and Objectives of the Programme
The aim of the integrated Care Programme for Older Persons is to develop and implement integrated services and pathways for older people with complex health and social care needs, shifting the delivery of care away from acute hospitals towards community based, planned and coordinated care.
The objective of the programme is to improve the quality of life for older people by providing access to integrated care and support that is planned around their needs and choices, supporting them to live well in their own homes and communities.
Context
In Ireland there is a change in the profile of the population demographics for a variety of social and economic reasons. The demographic challenge facing the Irish health and social care system includes:-
People aged 65 and over comprise 12.7% of the population and use 53% of inpatient beds.
People aged 85 and over represent 1.4% of population and use 13.5% of inpatient beds.
There will be 107,600 (17.3% increase) additional people aged 65 years and over by 2021
There will be 15,200 additional people aged 85 years and over by 2021"
4.1% of the population provide unpaid care with the profile of carers aging (39% increase in over 75yrs).  
Patients over 75yrs spend 3 three times longer in ED than those aged 65 or less. Up to 40% of those waiting >24 hrs are >75. 
50% of Acute Hospital delayed discharges require NHSS or a Home Care Package
For Patients over 85 years, approximately 600 acute hospital presentations can be anticipated per 1,000 population.
Programme Overview
The high level overview of the ICPOP programme is as shown below

Key deliverables in 2016
The ICPOP identified three key deliverables for 2016.  The focus was on establishment of National and local governance structures, recruitment of 35 WTE posts nationally at 6 Pioneer sites and setting up of workstreams at sites locally.
Role of the Pioneer Sites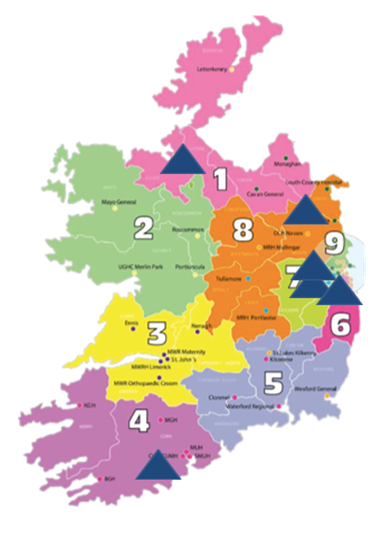 Funding was allocated to 6 Integrated care teams in2016  in CHO1, CHO4, CHO6, CHO7,CHO8 and CHO9.  Sites were selected based on an assessment of 'readiness' criteria where aspects of Integrated care were already being developed locally.A further 6 teams have been funded for 2017 (locations are currently being finalised).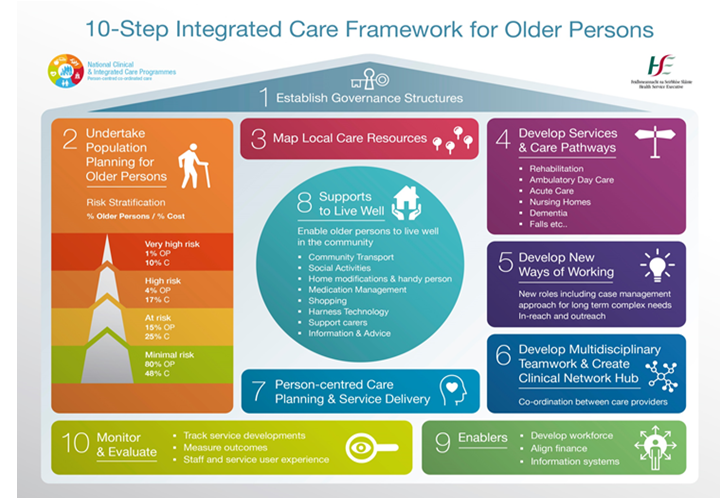 Framework for Integrated Care
A key component of the Programme was the development of a 10-Step Framework which sets out the desired direction of travel for the integration of health and social care for older people nationally. The emphasis is on a population health approach that requires a joint approach to planning from CHOs and Acute Hospitals reflected in a governance structure through local implementation teams.
The development of the framework is informed by international evidence and best practice as to the approaches and structures that best support an integrated approach to older persons care (references below).
This incremental framework approach has at its core, a focus on evaluation of structure (governance and teams in place), process (measuring care processes, transitions between care) and outcome (patient centred outcome measures and value based care) and is underpinned by ICT, Financial and Workforce enablers.
References: 
Goodwin, N. (2013). Understanding integrated care: a complex process, a fundamental principle. International Journal of Integrated Care(13), 1.
Nolte    Nolte,E.  McKee M. (2008).  Making it Happen in: Nolte E, McKee M, editors. Caring for People with Chronic Conditions: A Health System Perspective, Maidenhead: Open University Press.
Wodchis, W.P., Dixon, A., Anderson, G.M., Goodwin, N., 2015. Integrating care for older people with complex needs: key insights and lessons from a seven-country cross-case analysis. Int. J. Integr. Care 15.
Key Priorities 2017
The Integrated Care Programme for Older Persons and the National Clinical Programme for Older People are working closely together on priorities  for 2017.  The National Working group (ICPOP/NCPOP)  has brought the objectives of the two programmes together and identified key areas of focus for 2017 in  the table below: