The Coombe Hospital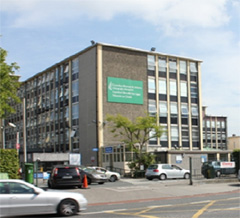 The Coombe Hospital, Dublin is the largest provider of women and infants healthcare in Ireland, and one of the largest in Europe. It has national, regional and area responsibilities for ensuring the optimal health of mothers, women and infants, looking after almost 10,000 families each year.
Founded in 1826, the hospital is almost 200 years old and was the first named women and infants hospital in the country. They are proud of their long tradition of clinical and academic excellence and it is their intention to be the first choice for women needing maternity, neonatal and gynaecology services.
Excellence in care
Their mission statement is 'Excellence in the care of women and babies'. The ethos of this hospital is one of multidisciplinary teamwork and patient/client-centred care.
As one of the country's leading research and teaching hospitals, it hosts two University Departments of Obstetrics and Gynaecology, the National Cervical Cytology Training Centre and the Hub Centre for Continuing Midwifery Education in the Greater Dublin area. The Research Laboratory in the hospital campus is a leading European Centre for molecular biology research.
Five-year strategy
 The Coombe's five-year strategy has been developed to meet the needs of the women and infants that it cares for. This strategy will ensure delivery of healthcare of exceptional quality, matched by cutting-edge research and training, through the staff who take pride in their collective achievements.
The Coombe's vision to be a nationally and internationally-recognised leader in healthcare for women, babies and their families is underpinned by the strong values of women and baby-centred care, excellence in everything they do, respect, pride in what they do, caring and progressive.
 

Professor Michael O'Connell, Master Coombe Women & Infants University Hospital

Visit their website